Environmental Sustainability

The biotechnology industry aspires to improve quality of life by developing technologies that help researchers advance scientific knowledge. However, the benefits of our contributions must be considered against the environmental impact of our methods. In other words, there are aspects of biotechnology, such as high-throughput manufacturing in strictly aseptic conditions, as well as cold-chain shipping, that produce a lot of waste and CO2.
At STEMCELL, we are taking action to reduce the environmental impact of our entire product life cycle while maintaining our superior quality standards.
ISO 14001-Certified Environmental Management System
STEMCELL has implemented an ISO 14001:2015-certified Environmental Management System at our Canadian-based operations to monitor, measure, analyze, and evaluate our environmental performance to reduce waste and lower our carbon output.
The ISO 14001-certified environmental management system demonstrates STEMCELL's commitment to:
Protecting the environment by adopting good environmental management practices, reducing waste and minimizing STEMCELL's contribution to climate change.
Compliance with all applicable environmental legislation and regulations.
Continuous improvement and maintaining an effective Environmental Management System.
ISO 14001:2015 is an internationally recognized standard to help companies systematically improve their environmental performance. With this ISO 14001 certification, STEMCELL's customers and communities can have confidence that we are operating in accordance with best environmental management practices when creating and offering our products and services for scientific research.
If you have any questions about our sustainability efforts please contact us at environmentalsustainability@stemcell.com.
Product Life Cycle Management
At STEMCELL we take responsibility for the entire lifespan of our products, from sourcing the right raw materials, to using environmentally responsible production and shipping methods where possible, to ensuring waste is minimized and properly processed. Elements of this approach include our Supplier Code of Conduct and energy-efficient lab practices. All our products are packaged in recyclable bottles and packed in recyclable boxes. We are currently piloting ways to further reduce CO2 associated with cold chain shipping.
Environmental Impact Investment
In addition to our ongoing work to reduce our own environmental footprint, STEMCELL invests in external organizations working to protect habitats and biodiversity from the effects of human activity and climate change. We also offset a portion of the carbon we produce by supporting reforestation initiatives.
Where We Work
Headquartered on the traditional unceded territory of the Musqueam, Tsleil-Waututh, and Squamish Coast Salish First Nations, STEMCELL's Vancouver and Burnaby offices are situated between the Coast mountains and the Pacific Ocean. We consider ourselves fortunate to work amid the rich cultural history and biodiversity of the Pacific Northwest and are deeply committed to protecting the natural environment in our backyards and around Planet Earth.
To be good stewards of the land we must take environmental sustainability into consideration for all of our current—and future—facilities around the world. To this end, we have two Green Mark- or LEED-certified buildings, and all sites have environmental programs and policies in place to encourage reuse, reduction, and recycling of resources whenever possible.
Here are some key features of our Greener Workplace initiatives:
Supply Chain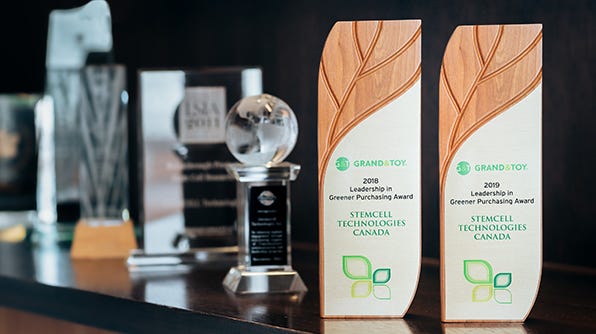 STEMCELL is continuously evaluating more sustainable supply chain and delivery logistics processes.
STEMCELL was awarded the 2018 and 2019 Leadership in Greener Purchasing Award from our office supplier. This award recognizes companies that are leaders in their sector for purchasing products with environmental attributes and ecolabels.
We select low impact materials for distribution of our products where possible and seek partners with strong environmental, social, and governance performance.
We are implementing several processes to reduce the carbon footprint of our cold chain shipping.
Waste Management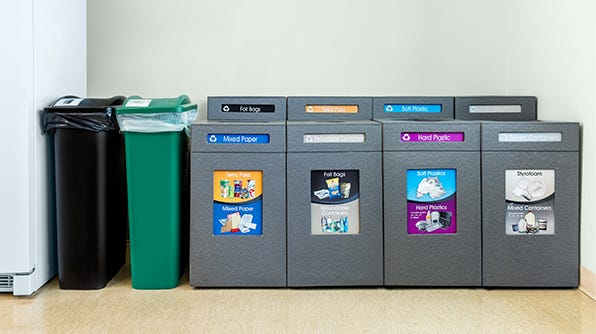 We comply with or exceed all lab waste disposal regulations and are continually seeking ways to minimize waste in our manufacturing and lab processes. All hazardous and non-hazardous waste is monitored by our Environmental Health & Safety Team to ensure compliance.
All offices have policies in place to reduce or eliminate paper use.
The majority of our facilities are equipped with extensive recycling and composting facilities to minimize the quantity of waste sent to landfill. This includes soft and hard plastic, mixed containers, foil, cardboard, paper, compost, metal, batteries, and electronics.
STEMCELL packaging can be recycled per the messaging on our paper and cardboard packaging, and all customers are encouraged to recycle our products in accordance with local disposal guidelines.
All instruments sold by STEMCELL comply with the regulations for Waste of Electrical and Electronic Equipment (WEEE).
Energy Efficiency
We have implemented environmental management standards and procedures that enable us to monitor and continually improve our performance. These include:
Choosing environmentally and energy-friendly systems and materials in our facilities where possible.
Optimizing energy efficiency in all offices, including implementation of LED lights and energy-efficient equipment.
Upgrading the HVAC systems to improve heating and cooling efficiency.
Educating staff to turn off lights and equipment when not in use.
Transportation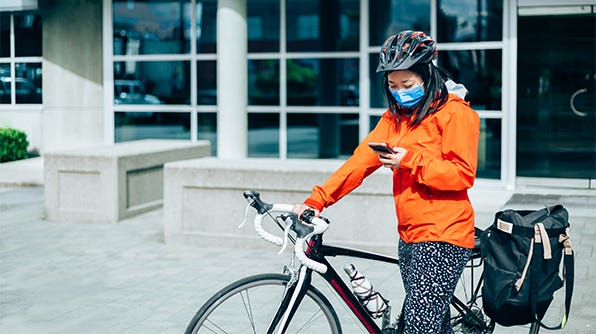 We encourage employees to choose sustainable modes of transportation by providing bicycle facilities and supporting bike to work programs.
STEMCELL provides employees with free transit passes for use between facilities. These facilities are intentionally situated close to public transit to support greener transportation choices.
STEMCELL supports three ways of working depending on the role: On-Site, Hybrid and Fully Remote. This flexibility helps to reduce commute-related carbon emissions.
Field staff are encouraged to support customers virtually, incurring significantly less business travel.
Several STEMCELL locations now offer Electric Vehicle (EV) charging stations.
Future Operations
Sustainability is a paramount consideration when operating all existing and future workspaces.
Base building systems and equipment loads are continually scrutinized to minimize energy consumption and optimize user and community well-being.
Sustainability is a key criteria in the design, material selection, and execution of all construction projects; one example is the recent deployment of smart windows at our newest facility. We also repurpose existing structures, where possible, to avoid many of the most significant negative impacts of new construction.
Related Resources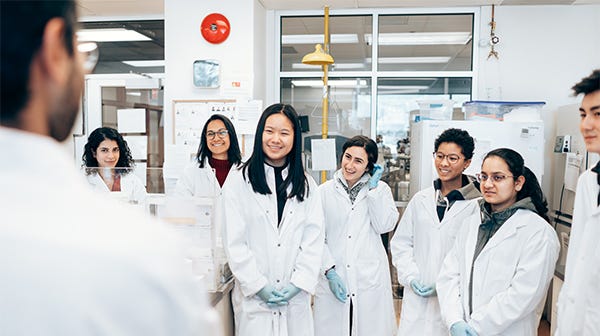 We are committed to conducting all aspects of our business responsibly and sustainably.
The inclusion, well-being, and engagement of our colleagues and community members is critical to our shared success.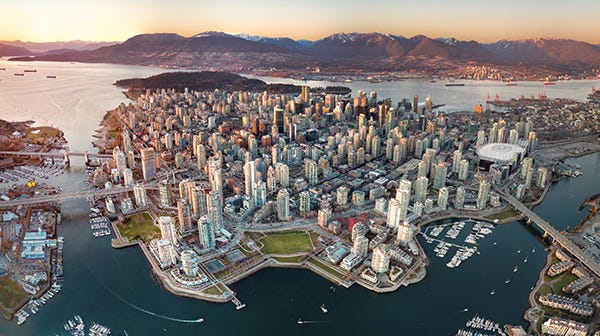 STEMCELL's leadership is committed to operating fairly and ethically in all our business endeavors.