Intestinal Epithelial Organoid Culture with IntestiCult™ Organoid Growth Medium (Mouse)
.
Document # 28223
Version 2.0.1
Dec 2016
3D Culture Systems
The use of three-dimensional (3D) culture systems continues to increase, due in large part to their potential to facilitate basic research into multicellular biological mechanisms as well as bridge the gap between traditional model systems such as immortalized cell lines or animal models and true human physiology.1,2 Adoption of 3D culture systems has been driven by growing recognition that organotypic cultures can provide a more physiologically relevant in vitro model than traditional monolayer culture techniques.1,2
Intestinal Organoids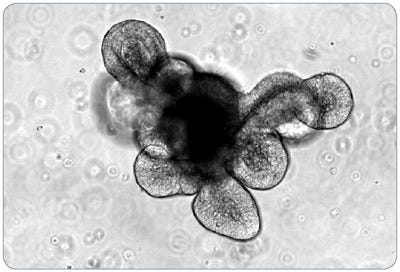 Figure 1. Light Microscope Visualization (10X) of a Mouse Intestinal Epithelial Organoid After Five Days of Culture
In the intestinal epithelial organoid culture system, intestinal stem cells recapitulate both the self-renewal capacity and differentiation hierarchy observed in the adult intestine in vivo (Figure 1). In addition to exhibiting the cell types present in the adult intestinal epithelium, intestinal organoids are characterized by a crypt-villus organization, epithelial polarization, and functional lumen,3,4 which together make this culture system a powerful tool for investigating intestinal biology and the properties of intestinal stem cells.3,4 Potential contributions to regenerative medicine are also being explored, as organoids have been demonstrated to incorporate into the colon of chemically injured mice to form segments that are morphologically indistinguishable from the surrounding epithelium.5 Intestinal organoids have been successfully co-cultured with both bacterial and immune cells, providing a model to study cell-to-cell interactions between epithelial tissues and the immune system.6,7 As well, mouse intestinal organoids are amenable to genetic manipulations using the CRISPR-Cas system and infection with retroviruses and lentiviruses.8,9
Protocols for Mouse Intestinal Organoid Culture
Tools and Technologies

IntestiCult™ Intestinal Organoid Culture Media
Establish, expand, maintain, and further differentiate intestinal organoid cultures from human or mouse intestinal crypts using IntestiCult™ complete and defined growth media.
Try IntestiCult™ Organoid Growth Medium (Mouse) in your own lab for efficient establishment and long-term maintenance of mouse intestinal organoids from intestinal crypts or single intestinal stem cells.
Training Programs

On-Demand Intestinal Organoid Course
Access free, self-paced training on how to culture mouse intestinal organoids.
Virtual or In-Person Intestinal Organoid Training
Gain experience in growing mouse intestinal organoids, with guidance from our team of scientific experts.
Request Pricing
Thank you for your interest in this product. Please provide us with your contact information and your local representative will contact you with a customized quote. Where appropriate, they can also assist you with a(n):
Estimated delivery time for your area
Product sample or exclusive offer
In-lab demonstration
By submitting this form, you are providing your consent to STEMCELL Technologies Canada Inc. and its subsidiaries and affiliates ("STEMCELL") to collect and use your information, and send you newsletters and emails in accordance with our
privacy policy
. Please
contact us
with any questions that you may have. You can unsubscribe or change your
email preferences
at any time.