RosetteSep™ Human CD45 Depletion Cocktail
Immunodensity depletion cocktail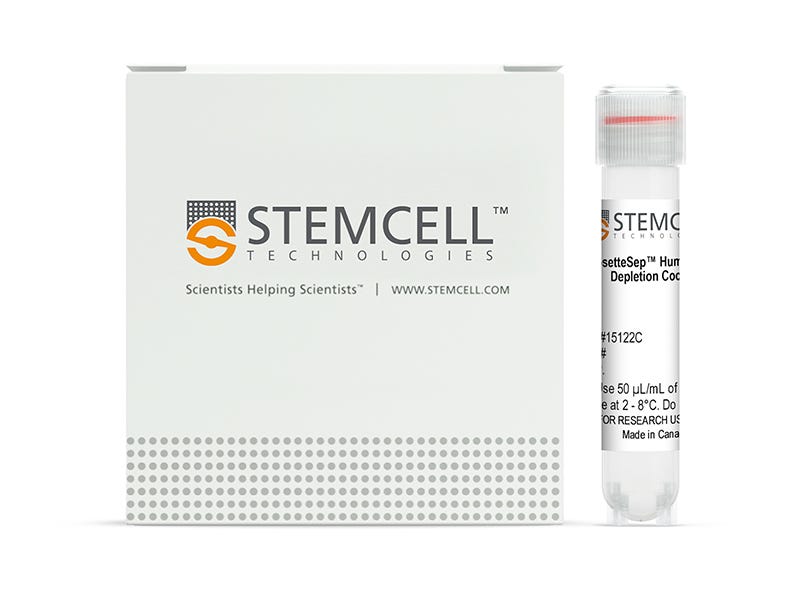 New look, same high quality and support!

You may notice that your instrument or reagent packaging looks slightly different from images displayed on the website, or from previous orders. We are updating our look but rest assured, the products themselves and how you should use them have not changed. Learn more
Request Pricing
Thank you for your interest in this product. Please provide us with your contact information and your local representative will contact you with a customized quote. Where appropriate, they can also assist you with a(n):
Estimated delivery time for your area
Product sample or exclusive offer
In-lab demonstration
By submitting this form, you are providing your consent to STEMCELL Technologies Canada Inc. and its subsidiaries and affiliates ("STEMCELL") to collect and use your information, and send you newsletters and emails in accordance with our
privacy policy
. Please
contact us
with any questions that you may have. You can unsubscribe or change your
email preferences
at any time.
New look, same high quality and support!

You may notice that your instrument or reagent packaging looks slightly different from images displayed on the website, or from previous orders. We are updating our look but rest assured, the products themselves and how you should use them have not changed. Learn more
Products for Your Protocol
Lymphoprep™

Density gradient medium for the isolation of mononuclear cells
Overview
The RosetteSep™ Human CD45 Depletion Cocktail is designed to enrich epithelial circulating tumor cells (CTCs) from whole blood by depleting CD45+ cells. Unwanted cells are targeted for depletion with Tetrameric Antibody Complexes recognizing CD45, CD66b and glycophorin A on red blood cells (RBCs). When centrifuged over a buoyant density medium such as Lymphoprep™ (Catalog #07801), the unwanted cells pellet along with the RBCs. The purified epithelial tumor cells are present as a highly enriched population at the interface between the plasma and the buoyant density medium.
Subtype
Cell Isolation Kits
Cell Type
Cancer Cells and Cell Lines
Sample Source
Buffy Coat, Whole Blood
Selection Method
Depletion
Application
Cell Isolation
Area of Interest
Cancer, Immunology, Stem Cell Biology
Data Figures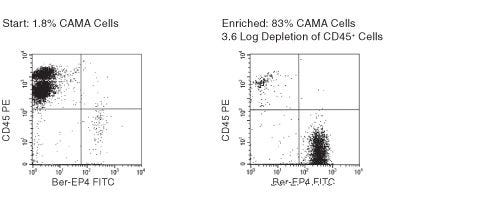 Figure 1. FACS Profile Results with RosetteSep™ Human CD45+ Cell Depletion Cocktail
Ber-EP4 is an antibody against an epithelial cell surface antigen.
Protocols and Documentation
Find supporting information and directions for use in the Product Information Sheet or explore additional protocols below.
Document Type
Product Name
Catalog #
Lot #
Language
Resources and Publications
Educational Materials
(4)
Frequently Asked Questions
What is RosetteSep™?
RosetteSep™ is a rapid cell separation procedure for the isolation of purified cells directly from whole blood, without columns or magnets.
How does RosetteSep™ work?
The antibody cocktail crosslinks unwanted cells to red blood cells (RBCs), forming rosettes. The unwanted cells then pellet with the free RBCs when centrifuged over a density centrifugation medium (e.g. Ficoll-Paque™ PLUS, Lymphoprep™).
What factors affect cell recovery?
The temperature of the reagents can affect cell recovery. All reagents should be at room temperature (sample, density centrifugation medium, PBS, centrifuge) before performing the isolations. Layering can also affect recovery so be sure to carefully layer the sample to avoid mixing with the density centrifugation medium as much as possible. Be sure to collect the entire enriched culture without disturbing the RBC pellet. A small amount of density centrifugation medium can be collected without worry.
Which cell samples can RosetteSep™ be used with?
RosetteSep™ can be used with leukapheresis samples, bone marrow or buffy coat, as long as: the concentration of cells does not exceed 5 x 107 per mL (can dilute if necessary); and there are at least 100 RBCs for every nucleated cell (RBCs can be added if necessary).
Can RosetteSep™ be used with previously frozen or cultured cells?
Yes. Cells should be re-suspended at 2 - 5 x 107 cells / mL in PBS + 2% FBS. Fresh whole blood should be added at 250 µL per mL of sample, as a source of red cells.
Can RosetteSep™ be used to enrich progenitors from cord blood?
Yes. Sometimes cord blood contains immature nucleated red cells that have a lower density than mature RBCs. These immature red cells do not pellet over Ficoll™, which can lead to a higher RBC contamination than peripheral blood separations.
Does RosetteSep™ work with mouse cells?
No, but we have developed EasySep™, a magnetic-based cell isolation system which works with mouse and other non-human species.
Which anticoagulant should be used with RosetteSep™?
Peripheral blood should be collected in heparinized Vacutainers. Cord blood should be collected in ACD.
Should the anticoagulant be washed off before using RosetteSep™?
No, the antibody cocktail can be added directly to the sample.
Publications
(12)
Sequential Circulating Tumor Cell Counts in Patients with Locally Advanced or Metastatic Hepatocellular Carcinoma: Monitoring the Treatment Response.
Journal of clinical medicine 2020 jan
Abstract
Hepatocellular carcinoma (HCC) is among the most common causes of cancer death in men. Whether or not a longitudinal follow-up of circulating tumor cells (CTCs) before and at different time points during systemic/targeted therapy is useful for monitoring the treatment response of patients with locally advanced or metastatic HCC has been evaluated in this study. Blood samples (n = 104) were obtained from patients with locally advanced or metastatic HCC (n = 30) for the enrichment of CTCs by a negative selection method. Analysis of the blood samples from patients with defined disease status (n = 81) revealed that those with progressive disease (PD, n = 37) had significantly higher CTC counts compared to those with a partial response (PR) or stable disease (SD; n = 44 for PR + SD, p = 0.0002). The median CTC count for patients with PD and for patients with PR and SD was 50 (interquartile range 21-139) and 15 (interquartile range 4-41) cells/mL of blood, respectively. A longitudinal analysis of patients (n = 17) after a series of blood collections demonstrated that a change in the CTC count correlated with the patient treatment response in most of the cases and was particularly useful for monitoring patients without elevated serum alpha-fetoprotein (AFP) levels. Sequential CTC enumeration during treatment can supplement standard medical tests and benefit the management of patients with locally advanced or metastatic HCC, in particular for the AFP-low cases.
Sensitive and easy screening for circulating tumor cells by flow cytometry.
JCI insight 2019 jun
Abstract
Circulating Tumor Cells (CTCs) represent an easy, repeatable and representative access to information regarding solid tumors. However, their detection remains difficult because of their paucity, their short half-life, and the lack of reliable surface biomarkers. Flow cytometry (FC) is a fast, sensitive and affordable technique, ideal for rare cells detection. Adapted to CTCs detection (i.e. extremely rare cells), most FC-based techniques require a time-consuming pre-enrichment step, followed by a 2-hours staining procedure, impeding on the efficiency of CTCs detection. We overcame these caveats and reduced the procedure to less than one hour, with minimal manipulation. First, cells were simultaneously fixed, permeabilized, then stained. Second, using low-speed FC acquisition conditions and two discriminators (cell size and pan-cytokeratin expression), we suppressed the pre-enrichment step. Applied to blood from donors with or without known malignant diseases, this protocol ensures a high recovery of the cells of interest independently of their epithelial-mesenchymal plasticity and can predict which samples are derived from cancer donors. This proof-of-concept study lays the bases of a sensitive tool to detect CTCs from a small amount of blood upstream of in-depth analyses.
Application of Prostate Cancer Models for Preclinical Study: Advantages and Limitations of Cell Lines, Patient-Derived Xenografts, and Three-Dimensional Culture of Patient-Derived Cells.
Cells 2019 jan
Abstract
Various preclinical models have been developed to clarify the pathophysiology of prostate cancer (PCa). Traditional PCa cell lines from clinical metastatic lesions, as exemplified by DU-145, PC-3, and LNCaP cells, are useful tools to define mechanisms underlying tumorigenesis and drug resistance. Cell line-based experiments, however, have limitations for preclinical studies because those cells are basically adapted to 2-dimensional monolayer culture conditions, in which the majority of primary PCa cells cannot survive. Recent tissue engineering enables generation of PCa patient-derived xenografts (PDXs) from both primary and metastatic lesions. Compared with fresh PCa tissue transplantation in athymic mice, co-injection of PCa tissues with extracellular matrix in highly immunodeficient mice has remarkably improved the success rate of PDX generation. PDX models have advantages to appropriately recapitulate the molecular diversity, cellular heterogeneity, and histology of original patient tumors. In contrast to PDX models, patient-derived organoid and spheroid PCa models in 3-dimensional culture are more feasible tools for in vitro studies for retaining the characteristics of patient tumors. In this article, we review PCa preclinical model cell lines and their sublines, PDXs, and patient-derived organoid and spheroid models. These PCa models will be applied to the development of new strategies for cancer precision medicine.
Quality Statement:

PRODUCTS ARE FOR RESEARCH USE ONLY AND NOT INTENDED FOR HUMAN OR ANIMAL DIAGNOSTIC OR THERAPEUTIC USES UNLESS OTHERWISE STATED. FOR ADDITIONAL INFORMATION ON QUALITY AT STEMCELL, REFER TO WWW.STEMCELL.COM/COMPLIANCE.