EasySep™ Mouse/Human Chimera Isolation Kit
Immunomagnetic negative selection cell isolation kit

New look, same high quality and support!

You may notice that your instrument or reagent packaging looks slightly different from images displayed on the website, or from previous orders. We are updating our look but rest assured, the products themselves and how you should use them have not changed. Learn more
Request Pricing
Thank you for your interest in this product. Please provide us with your contact information and your local representative will contact you with a customized quote. Where appropriate, they can also assist you with a(n):
Estimated delivery time for your area
Product sample or exclusive offer
In-lab demonstration
By submitting this form, you are providing your consent to STEMCELL Technologies Canada Inc. and its subsidiaries and affiliates ("STEMCELL") to collect and use your information, and send you newsletters and emails in accordance with our
privacy policy
. Please
contact us
with any questions that you may have. You can unsubscribe or change your
email preferences
at any time.
New look, same high quality and support!

You may notice that your instrument or reagent packaging looks slightly different from images displayed on the website, or from previous orders. We are updating our look but rest assured, the products themselves and how you should use them have not changed. Learn more
Products for Your Protocol
Overview
The EasySep™ Mouse/Human Chimera Isolation Kit is designed to highly enrich human cells from bone marrow, spleen or peripheral blood of human xenograft recipient mice by negative selection. Unwanted cells are targeted for removal with biotinylated antibodies directed against mouse hematopoietic cells and streptavidin-coated magnetic particles. Labeled cells are separated using an EasySep™ magnet without the use of columns. Desired cells are poured off into a new tube.

This product can be used in place of the StemSep™ Mouse/Human Chimera Enrichment Kit (Catalog #13068) for faster, easier cell isolations.
Magnet Compatibility
• EasySep™ Magnet (Catalog #18000)
• "The Big Easy" EasySep™ Magnet (Catalog #18001)
• EasyEights™ EasySep™ Magnet (Catalog #18103)
• EasyPlate™ EasySep™ Magnet (Catalog #18102)
Subtype
Cell Isolation Kits
Sample Source
Bone Marrow, Spleen, Whole Blood
Selection Method
Negative
Application
Cell Isolation
Area of Interest
Cancer, Immunology
Data Figures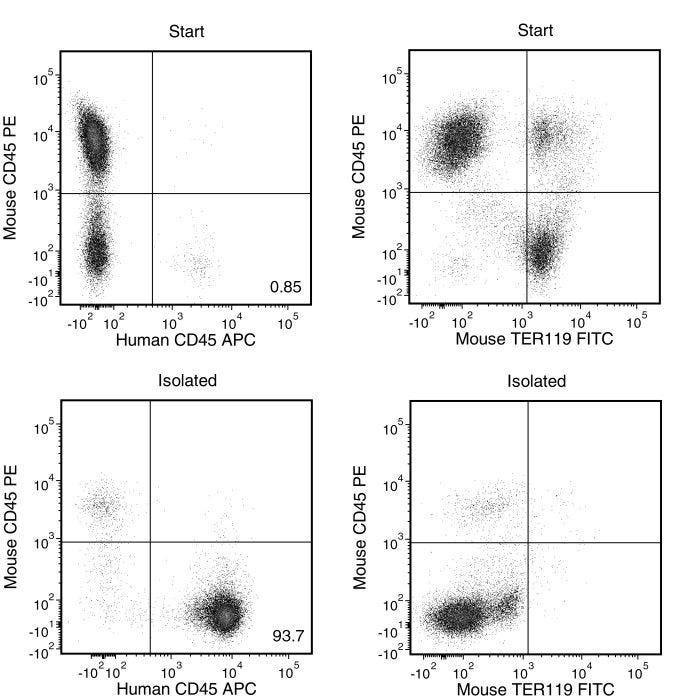 Figure 1. Typical EasySep™ Mouse/Human Chimera Isolation Profile
In the above example, human peripheral mononuclear cells (PBMCs) are seeded into mouse bone marrow at an average starting frequency of 1.85%. The human PBMC content of the isolated fraction is 80 - 98%. Typically 3 - 4.5 log depletion of targeted mouse CD45+ is attained.
Protocols and Documentation
Find supporting information and directions for use in the Product Information Sheet or explore additional protocols below.
Document Type
Product Name
Catalog #
Lot #
Language
Resources and Publications
Educational Materials
(10)
Frequently Asked Questions
Can EasySep™ Streptavidin RapidSpheres™ be used for either positive or negative selection?
Currently, EasySep™ Streptavidin RapidSphere™ kits are only available for negative selection and work by targeting and removing unwanted cells.
How does the separation work?
Streptavidin RapidSphere™ magnetic particles are crosslinked to unwanted cells using biotinylated antibodies. When placed in the EasySep™ Magnet, labeled cells migrate to the wall of the tube. The unlabeled cells are then poured off into a new tube.
Which columns do I use?
The EasySep™ procedure is column-free. That's right - no columns!
How can I analyze the purity of my enriched sample?
The Product Information Sheet provided with each EasySep™ kit contains detailed staining information.
Can EasySep™ Streptavidin RapidSphere™ separations be automated?
Yes. RoboSep™, the fully automated cell separator, automates all EasySep™ labeling and cell separation steps.
Are cells isolated using EasySep™ RapidSphere™ products FACS-compatible?
Yes. Desired cells are unlabeled and ready to use in downstream applications, such as FACS analysis.
Can I alter the separation time in the magnet?
Yes; however, this may impact the kit's performance. The provided EasySep™ protocols have already been optimized to balance purity, recovery and time spent on the isolation.
Publications
(2)
Despite mutation acquisition in hematopoietic stem cells, JMML-propagating cells are not always restricted to this compartment.
Leukemia 2020 jun
Abstract
Juvenile myelomonocytic leukemia (JMML) is a rare aggressive myelodysplastic/myeloproliferative neoplasm of early childhood, initiated by RAS-activating mutations. Genomic analyses have recently described JMML mutational landscape; however, the nature of JMML-propagating cells (JMML-PCs) and the clonal architecture of the disease remained until now elusive. Combining genomic (exome, RNA-seq), Colony forming assay and xenograft studies, we detect the presence of JMML-PCs that faithfully reproduce JMML features including the complex/nonlinear organization of dominant/minor clones, both at diagnosis and relapse. Further integrated analysis also reveals that although the mutations are acquired in hematopoietic stem cells, JMML-PCs are not always restricted to this compartment, highlighting the heterogeneity of the disease during the initiation steps. We show that the hematopoietic stem/progenitor cell phenotype is globally maintained in JMML despite overexpression of CD90/THY-1 in a subset of patients. This study shed new lights into the ontogeny of JMML, and the identity of JMML-PCs, and provides robust models to monitor the disease and test novel therapeutic approaches.
Genetically Engineered Cell-Derived Nanoparticles for Targeted Breast Cancer Immunotherapy.
Molecular therapy : the journal of the American Society of Gene Therapy 2019 nov
Abstract
Exosomes are nanosized membranous vesicles secreted by a variety of cells. Due to their unique and pharmacologically important properties, cell-derived exosome nanoparticles have drawn significant interest for drug development. By genetically modifying exosomes with two distinct types of surface-displayed monoclonal antibodies, we have developed an exosome platform termed synthetic multivalent antibodies retargeted exosome (SMART-Exo) for controlling cellular immunity. Here, we apply this approach to human epidermal growth factor receptor 2 (HER2)-expressing breast cancer by engineering exosomes through genetic display of both anti-human CD3 and anti-human HER2 antibodies, resulting in SMART-Exos dually targeting T cell CD3 and breast cancer-associated HER2 receptors. By redirecting and activating cytotoxic T cells toward attacking HER2-expressing breast cancer cells, the designed SMART-Exos exhibited highly potent and specific anti-tumor activity both in vitro and in vivo. This work demonstrates preclinical feasibility of utilizing endogenous exosomes for targeted breast cancer immunotherapy and the SMART-Exos as a broadly applicable platform technology for the development of next-generation immuno-nanomedicines.
Quality Statement:

PRODUCTS ARE FOR RESEARCH USE ONLY AND NOT INTENDED FOR HUMAN OR ANIMAL DIAGNOSTIC OR THERAPEUTIC USES UNLESS OTHERWISE STATED. FOR ADDITIONAL INFORMATION ON QUALITY AT STEMCELL, REFER TO WWW.STEMCELL.COM/COMPLIANCE.