Overview
The EasySep™ Mouse/Human Chimera Isolation Kit is designed to highly enrich human cells from bone marrow, spleen or peripheral blood of human xenograft recipient mice by negative selection. Unwanted cells are targeted for removal with biotinylated antibodies directed against mouse hematopoietic cells and streptavidin-coated magnetic particles. Labeled cells are separated using an EasySep™ magnet without the use of columns. Desired cells are poured off into a new tube.

This product can be used in place of the StemSep™ Mouse/Human Chimera Enrichment Kit (Catalog #13068) for faster, easier cell isolations.
Advantages:
• Fast, easy-to-use and column-free
• Isolated cells are untouched
Components:
EasySep™ Mouse/Human Chimera Isolation Kit (Catalog #19849)

EasySep™ Mouse/Human Chimera Isolation Cocktail, 0.5 mL

EasySep™ Streptavidin RapidSpheres™ 50001, 1 mL

Normal Rat Serum, 2 mL
Magnet Compatibility:
• EasySep™ Magnet (Catalog #18000)
• "The Big Easy" EasySep™ Magnet (Catalog #18001)
• EasyEights™ EasySep™ Magnet (Catalog #18103)
• EasyPlate™ EasySep™ Magnet (Catalog #18102)
Subtype:
Cell Isolation Kits
Sample Source:
Bone Marrow; Spleen; Whole Blood
Selection Method:
Negative
Application:
Cell Isolation
Area of Interest:
Immunology; Cancer Research
Scientific Resources
Product Documentation
Document Type
Product Name
Catalog #
Lot #
Language
Educational Materials
(9)
Frequently Asked Questions
Can EasySep™ Streptavidin RapidSpheres™ be used for either positive or negative selection?
Currently, EasySep™ Streptavidin RapidSphere™ kits are only available for negative selection and work by targeting and removing unwanted cells.
How does the separation work?
Streptavidin RapidSphere™ magnetic particles are crosslinked to unwanted cells using biotinylated antibodies. When placed in the EasySep™ Magnet, labeled cells migrate to the wall of the tube. The unlabeled cells are then poured off into a new tube.
Which columns do I use?
The EasySep™ procedure is column-free. That's right - no columns!
How can I analyze the purity of my enriched sample?
The Product Information Sheet provided with each EasySep™ kit contains detailed staining information.
Can EasySep™ Streptavidin RapidSphere™ separations be automated?
Yes. RoboSep™, the fully automated cell separator, automates all EasySep™ labeling and cell separation steps.
Are cells isolated using EasySep™ RapidSphere™ products FACS-compatible?
Yes. Desired cells are unlabeled and ready to use in downstream applications, such as FACS analysis.
Can I alter the separation time in the magnet?
Yes; however, this may impact the kit's performance. The provided EasySep™ protocols have already been optimized to balance purity, recovery and time spent on the isolation.
Data and Publications
Data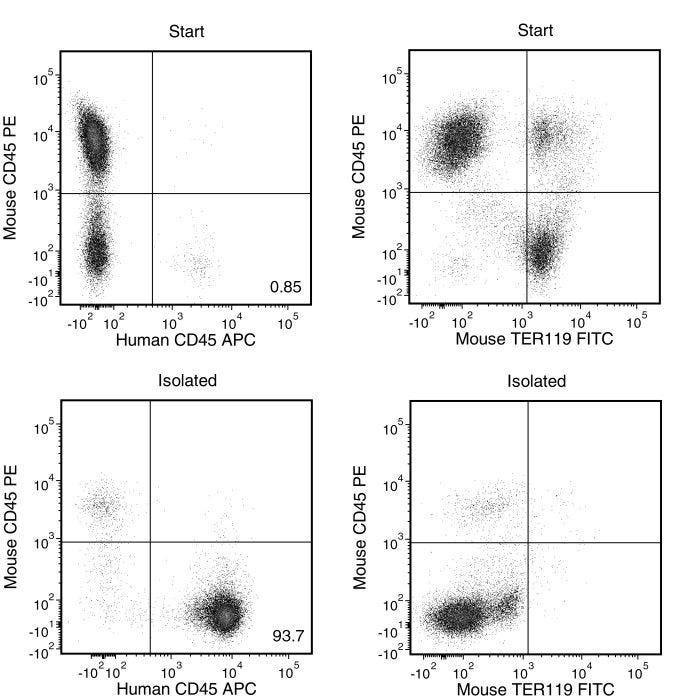 Figure 1. Typical EasySep™ Mouse/Human Chimera Isolation Profile
In the above example, human peripheral mononuclear cells (PBMCs) are seeded into mouse bone marrow at an average starting frequency of 1.85%. The human PBMC content of the isolated fraction is 80 - 98%. Typically 3 - 4.5 log depletion of targeted mouse CD45+ is attained.
STEMCELL TECHNOLOGIES INC.'S QUALITY MANAGEMENT SYSTEM IS CERTIFIED TO ISO 13485. PRODUCTS ARE FOR RESEARCH USE ONLY AND NOT INTENDED FOR HUMAN OR ANIMAL DIAGNOSTIC OR THERAPEUTIC USES UNLESS OTHERWISE STATED.