Overview
The EasySep™ Mouse Epithelial Cell Enrichment Kit II is designed to isolate epithelial cells from freshly dissociated mouse mammary tissues by immunomagnetic negative selection. The EasySep™ procedure involves labeling unwanted non-epithelial cells with biotinylated antibodies and magnetic particles. The magnetically labeled cells are separated from untouched desired cells by using an EasySep™ magnet and simply pouring the desired cells into a new tube.

This product replaces the EasySep™ Epithelial Cell Enrichment Kit (Catalog #19758) for even faster isolations. It also replaces the cell enrichment portion of the EasySep™ Mouse Mammary Stem Cell Enrichment Kit (Catalog #19757). Additionally, Anti-Mouse CD24 Antibody, Clone M1/69, PE (Catalog #60099PE) and Anti-Mouse CD49f Antibody, Clone GoH3, FITC (Catalog #60037FI) are required to complete the kit.
Advantages:
• Fast, easy-to-use and column-free
• Isolated cells are untouched
Components:
EasySep™ Mouse Epithelial Cell Enrichment Kit II (Catalog #19868)

EasySep™ Mouse Epithelial Cell Enrichment Cocktail, 0.5 mL
EasySep™ Biotin Selection Cocktail, 1 mL
EasySep™ Dextran RapidSpheres™, 1 mL
Magnet Compatibility:
• EasySep™ Magnet (Catalog #18000)
• "The Big Easy" EasySep™ Magnet (Catalog #18001)
Subtype:
Cell Isolation Kits
Cell Type:
Mammary Cells; Prostate Cells
Sample Source:
Other; Primary
Selection Method:
Negative
Application:
Cell Isolation
Area of Interest:
Epithelial Cell Biology
Scientific Resources
Product Documentation
Document Type
Product Name
Catalog #
Lot #
Language
Educational Materials
(4)
Product Applications
This product is designed for use in the following research area(s) as part of the highlighted workflow stage(s). Explore these workflows to learn more about the other products we offer to support each research area.
Research Area
Workflow Stages for
Data and Publications
Data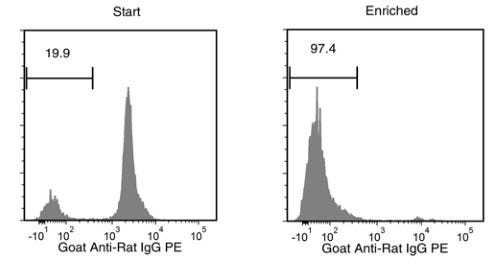 Starting with mouse mammary tissues, the epithelial cell content of the enriched fraction is typically 96.97 ± 0.54% (mean ± SD using the purple EasySep™ Magnet). In the above example, the percentages of epithelial cells in the start and final enriched fractions are 19.9% and 97.4%, respectively.
STEMCELL TECHNOLOGIES INC.'S QUALITY MANAGEMENT SYSTEM IS CERTIFIED TO ISO 13485. PRODUCTS ARE FOR RESEARCH USE ONLY AND NOT INTENDED FOR HUMAN OR ANIMAL DIAGNOSTIC OR THERAPEUTIC USES UNLESS OTHERWISE STATED.