For detection of active caspase-3 in mammalian cells undergoing apoptosis
Overview
Efficiently detect active caspase-3 in mammalian cells undergoing apoptosis by using FITC-C6-DEVD-FMK. This reagent uses a quick and simple staining protocol that is highly sensitive and compatible with standard flow cytometers.

Caspase-3 is a proteolytic enzyme with a substrate selectivity for the peptide sequence Asp-Glu-Val-Asp (DEVD). FITC-C6-DEVD-FMK is a non-toxic, cell-permeable fluorescent substrate that irreversibly binds to activated caspase-3 in apoptotic cells. The FITC-labeled substrate can be detected with high sensitivity using flow cytometry.

Caspases are a family of proteases that play a central role in cellular apoptosis through the cleavage of select proteins, and result in the disassembly of the cell (Thornberry & Lazebnik Science, 1998). This process is switched on by pro-apoptotic signals from death receptors or stimuli such as cytotoxic reagents, which activate the initiator caspases and lead to activation of the effector caspases—caspase-3 and caspase-7 (Thornberry & Lazebnik Science, 1998). FITC-C6-DEVD-FMK is useful for screening caspase-3 inhibitors and quantifying apoptotic cells containing active caspase-3.
Application
Flow Cytometry
Data Figures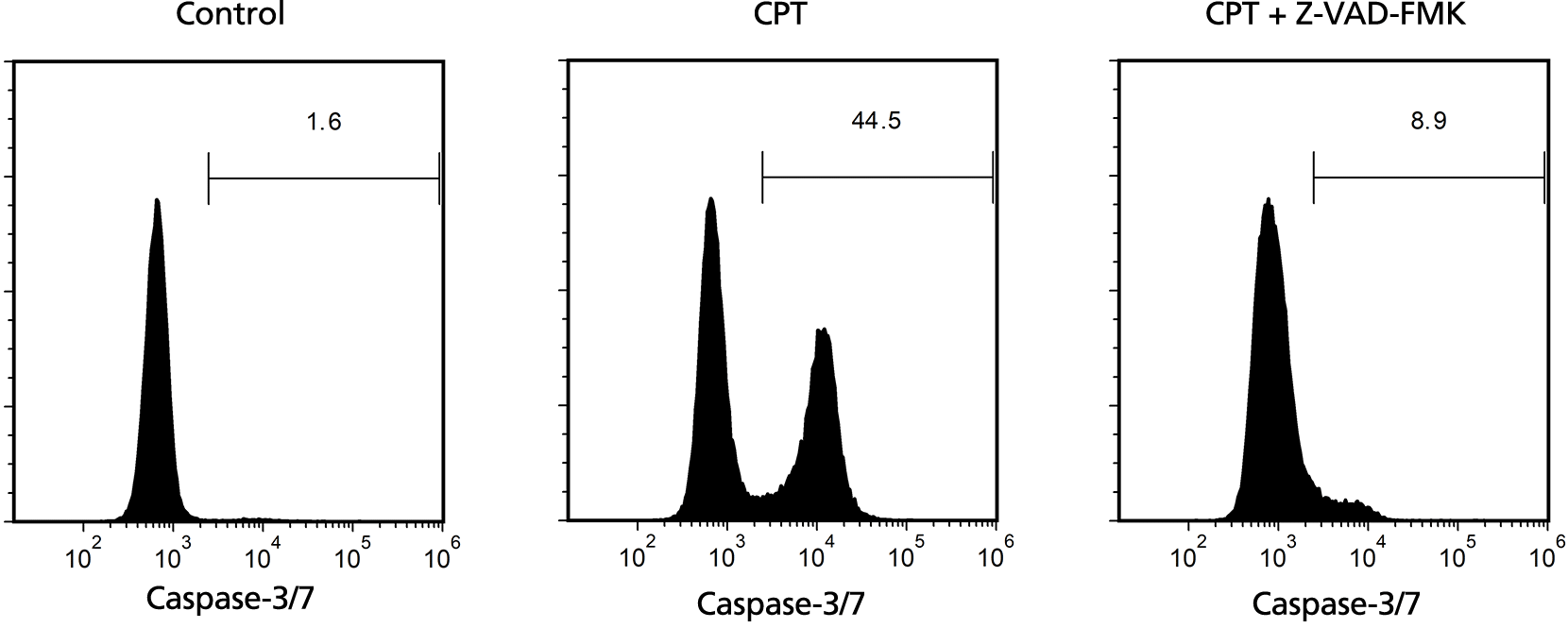 Figure 1. FITC-C6-DEVD-FMK
Jurkat cells were treated with 0.2% DMSO (Control) or 20 µM camptothecin (CPT), and in the presence or absence of Z-VAD-FMK (a pan-caspase inhibitor). Active caspase-3/7 was detected by flow cytometry, using FITC-C6-DEVD-FMK. A representative plot of three independent experiments is depicted in the figure above.
Protocols and Documentation
Find supporting information and directions for use in the Product Information Sheet or explore additional protocols below.
Document Type
Product Name
Catalog #
Lot #
Language
Quality Statement:

PRODUCTS ARE FOR RESEARCH USE ONLY AND NOT INTENDED FOR HUMAN OR ANIMAL DIAGNOSTIC OR THERAPEUTIC USES UNLESS OTHERWISE STATED. FOR ADDITIONAL INFORMATION ON QUALITY AT STEMCELL, REFER TO WWW.STEMCELL.COM/COMPLIANCE.