Seven Ways to Make the Most Out of Your Commute to the Lab

The commute to the lab is a short walk away for some of us, but it can take much longer for others. The 2016 Canadian census and the American Community Survey found that the average commute to work was just over 26 minutes.1 This adds up to over 9 days over the course of a year!
Maybe you spend this time dozing off, listening to music or mindlessly scrolling through your social media feeds on your phone. Whether you enjoy having the time to yourself or you think it's a complete waste of time, your commute to work is an integral part of life. What if you could use that time more productively?
Here are seven ways to make the most out of your commute to the lab.
1. Check Your Emails
Checking emails in the morning can consume a lot of time and delay the start of your productive work day. During your morning commute, you can get a head start by going through your inbox, replying to emails, and prioritizing what you need to attend to. As an added bonus, checking your emails can inform your daily planning.


2. Plan Ahead
One advantage to a long commute is that you can use it to boost your productivity once you arrive at the lab, and one of the best ways to do that is to plan for the day ahead.

By creating and adhering to a to-do list, you can set targets to ensure that you'll stay focused throughout the day. Start by creating a list of things you need to get done, then identify the highest priority tasks. Keep in mind how long each task will take and whether there are any gaps of time during the day. For example, if your experiments require long incubation times, you can plan how to fill the gaps and avoid idle waiting. This will help you prepare for the day, ensure that you're using your time efficiently, and maximize your overall productivity.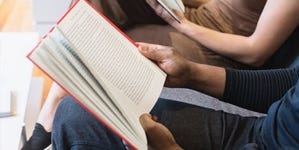 3. Read
Do you find that you don't have time to read all of the journal articles you would like to during the week? Reading articles, books, or your colleague's manuscript is a great way to be productive during your morning commute. Keeping up with current research has its benefits—you can get ideas on how to improve your research, gain a better understanding of how your research fits into the "bigger picture" and find the motivation to keep going.
4. Listen to a Podcast
On some commutes it can be difficult to read; perhaps the bus is crowded or your hands are too full. Maybe you're too tired to read, or your commute consists of driving, walking, or cycling. In these situations, you can listen to a scientific podcast.

Podcasts can be a convenient and entertaining way to keep up with current conversations, directions, and advancements in the scientific community. For example, the Stem Cell Podcast delves into the latest developments in stem cell research and hosts interviews with groundbreaking scientists in the field. With the breadth of topics out there, there's sure to be a podcast for you.


5. Brainstorm
Use your commute to think about your research and your career. How can you make your current project more impactful? What will your next project be? Where do you want to go with your career, and what do you need to get there? Make sure to keep a notebook handy so you can take note of your ideas during your daily commute. Alternatively, keep track of your ideas on your smartphone using dictation or note-taking apps.

When brainstorming, it can also be a good idea to assess the challenges you're facing in the lab, and how you can get past them. For example, are any of your procedures or technologies inefficient, or taking longer than they should? If so, perhaps it's time to think about alternatives.


6. Work on Setting Goals
Our survey indicates that a staggering 82% of respondents sometimes feel overwhelmed at work. One of the best ways to manage this is to break down your work and projects into smaller goals.

During your commute to and from the lab, try setting and evaluating goals for yourself. Goal setting is often overlooked but it can be a major driver of productivity. Try setting SMART goals—goals that are specific, measurable, attainable, realistic and time-sensitive. Whether they're short-term or long-term, goals will provide the clarity and direction you need to get more done.


7. Get Some Exercise
Staying active can help you feel energized throughout the day but many people struggle to find the time to fit exercise into their day. This can be even more difficult for researchers working long or irregular hours. When we asked researchers about their longest stretch of time spent at work, 93% of survey respondents said it was over 10 hours and more than a quarter of respondents said it was 17 hours or longer.

One way you can conveniently fit exercise into your day is by biking or walking to the lab. As an added benefit, numerous studies have found that walking or cycling to work improves well-being.2,3,4
Your commute to the lab doesn't have to be a time sink. Spending your commute wisely is one way to get a head-start on the day and boost your productivity in the day ahead. But you don't have to stop here. By adopting technologies that save you time in the lab, you can fit even more into your day.

References
Statistics Canada. (2016) Journey to Work: Key Results From the 2016 Census. Retrieved from https://www150.statcan.gc.ca
Martin A et al. (2014) Does active commuting improve psychological wellbeing? Longitudinal evidence from eighteen waves of the British Household Panel Survey. Prev Med 69:296-303.
Legrain A et al. (2015) Am stressed, must travel: The relationship between mode choice and commuting stress. Transp Res Part F Traffic Psychol Behav 34:141-51.
St-Louis E et al. (2014). The happy commuter: A comparison of commuter satisfaction across modes. Transp Res Part F Traffic Psychol Behav 26:160-70.