Cori Gain discusses her work in the Johnson lab focused on understanding immune-mediated blood-brain barrier disruption in cerebral malaria
Overcoming Life Circumstances to Pursue Neuroimmunology Research
Cori Fain, PhD Student, Mayo Clinic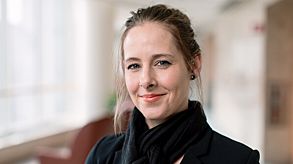 Cori Fain is a PhD student in Dr. Aaron Johnson's lab at the Mayo Clinic. Cori's research is focused on understanding immune-mediated blood-brain barrier (BBB) disruption in cerebral malaria. In this interview, Cori tells us about her atypical scientific journey as a mother of three children and shares an overview of her neuroimmunology research.
Topics:
Neuroimmunology research
Immune-mediated blood brain barrier disruption in cerebral malaria
Cori's story: Overcoming life circumstances to seek scientific discoveries
What inspired you to choose a career in science?
My inspiration came from first realizing that it was actually possible for me to have a career in science, and then subsequently realizing that I was very good at it. Once I started working in the field, my passion grew and I knew I had found my calling. I was good with technical applications, but tying it all together is what I really enjoy. What truly inspires me is the exhilaration of discovering something that was previously unknown.
Tell us about your scientific journey.
I've had a very atypical journey to science. I came from economically disadvantaged background where college and careers in science or academia were not considered options. The first step was proving everyone wrong and finding a way to go to college. That is when I found research, and I have devoted myself to research for over 10 years now, while being a single mother most of the way. I have raised three children during my career in science and it is very important to me to show them that hard work does pay off. I have learned that if you are passionate about what you do, nothing can stop you and you can make an impact in your field.
Understanding the immune-mediated blood-brain barrier disruption in cerebral malaria
What are you working on now?
I am currently beginning my second year of graduate school at the Mayo Clinic. I am working on mechanisms of immune-mediated BBB disruption in pathologies of the brain. There are common occurrences even with distinctly different insults. My current focus is on cerebral malaria, which mainly affects young children. I have been elucidating a unique, immune-mediated chain of events that occurs, leading up to lethality in this disease. Many neurological insults lead to BBB disruption, vascular permeability, and neuronal injury or loss. So far in my first year in the lab, I have identified a novel factor that is upregulated by neurons during these insults in an immune-mediated manner. This factor may prove to be a critical therapeutic target for treatment of the disease.
What's next for your research?
I believe that the field of neuroimmunology is still in its infancy compared to other areas of research, which makes it so exciting! What is next in my research is to concentrate on discovering effective strategies to modulate immunological outcomes in the brain during pathologies to mediate disease symptoms.
Filling in gaps of knowledge through research
What do you find most enjoyable and most challenging about research?
You have the opportunity to become an expert in many different fields and create bridges between many areas of research in order to fill in gaps of knowledge. I love that I can follow the data into new areas; it is exciting to always be learning.
What do you think about the state of academic research?
I think it might be the most challenging it has ever been to gain entry to, but if you know this is what you are meant to do, let nothing deter you!
Using isolated cells in neuroimmunology research
What cells do you isolate?
We quite often isolate T cells; sometimes the whole T cell compartment and sometime subsets of T cells. We often use the isolated T cells in adoptive transfer experiments. We are also beginning to isolate neurons as we would like to do some imaging flow cytometry as well as single-cell RNAseq on neurons during particular pathologies.
What cell isolation products are you using?
I currently use the EasySep™ Mouse T Cell Isolation Kit, CD4+ T Cell Isolation Kit, and CD8+ T Cell Isolation Kit. I have used different isolation kits over the years and these yield superior results, in my opinion. I would like to start employing selection for neurons and neuronal subsets in the near future.
I have also used Biovision, Thermofisher, Novus, and Miltenyi for T cell and monocyte isolation. I got better purity and viability with STEMCELL kits in comparison, and the isolation protocols for the STEMCELL kits are also less time consuming.
Learn more about immune cell isolation using EasySep™

See How EasySep™ Works
Watch this video to see how you can quickly and easily isolate highly purified immune cells.

Mouse Immune Cell Isolation
Discover how you can use EasySep™ to isolate mouse immune cells in as little as 15 minutes.
Featured Cell Separation Products
Request Pricing
Thank you for your interest in this product. Please provide us with your contact information and your local representative will contact you with a customized quote. Where appropriate, they can also assist you with a(n):
Estimated delivery time for your area
Product sample or exclusive offer
In-lab demonstration
By submitting this form, you are providing your consent to STEMCELL Technologies Canada Inc. and its subsidiaries and affiliates ("STEMCELL") to collect and use your information, and send you newsletters and emails in accordance with our
privacy policy
. Please
contact us
with any questions that you may have. You can unsubscribe or change your
email preferences
at any time.