Human Recombinant R-Spondin-3
R-Spondin-3, His tag
Overview
R-Spondin-3 is a member of thrombospondin type 1 repeat (TSR-1) superfamily that is involved in the canonical Wnt/β-catenin signaling pathway (de Lau et al.). R-spondin proteins are characterized by two furin-like repeats at the amino terminus and thrombospondin domain located near the carboxyl terminus (de Lau et al.). R-spondin-3 expression is associated with ovarian cancer (Gu et al.), prostate cancer (Mesci et al.), and differentiation of intestinal epithelial cells in diabetes mellitus (Shan et al.). In a transgenic mice model, the expression of R-Spondin-3 induces the expansion of Lgr5+ stem cells, Paneth cells, and Lgr4+ cells, promoting the intestinal stem cell compartment (Hilkens et al.). This protein contains a His-residue tag at the carboxyl end of the polypeptide chain.
Alternative Names
Cristin 1, hRspo3, PWTSR, R-Spondin 3, Roof plate-specific spondin-3, RSPO3, RSpondin 3, Thrombospondin type-1 domain-containing protein 2, THSD2
Cell Type
Epithelial Cells
Area of Interest
Organoids, Stem Cell Biology
Molecular Weight
15.3 kDa
Data Figures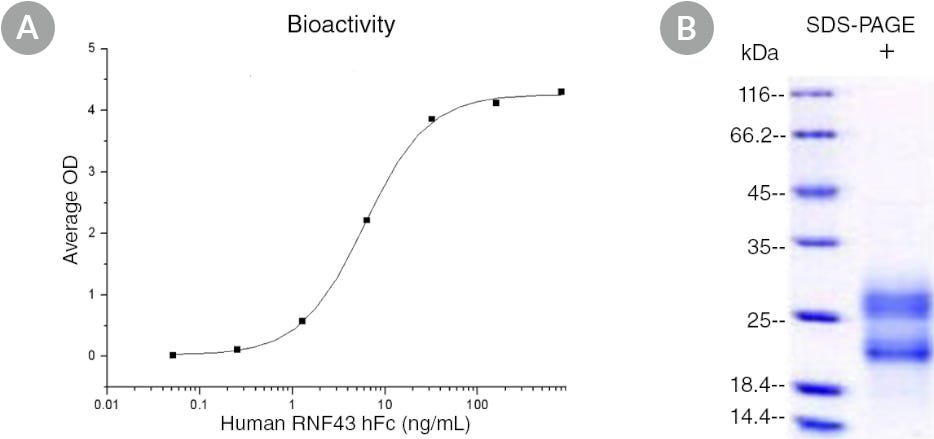 Figure 1.
(A) The binding activity of Human Recombinant R-Spondin-3 was tested by functional ELISA with immobilized Human Recombinant R-Spondin-3 at 2000 ng/mL. Immobilized Human Recombinant R-Spondin-3 can bind human RNF43 hFc with a linear range of 3 - 12 ng/mL. (B) Human Recombinant R-Spondin-3 was resolved with SDS-PAGE under reducing (+) conditions and visualized by Coomassie Blue staining. Human Recombinant R-Spondin-3 has a predicted molecular mass of 15.3 kDa, but the apparent molecular mass is approximately 22 kDa to 27 kDa due to different glycosylation.
Protocols and Documentation
Find supporting information and directions for use in the Product Information Sheet or explore additional protocols below.
Document Type
Product Name
Catalog #
Lot #
Language
Resources and Publications
Educational Materials
(2)
Quality Statement:

PRODUCTS ARE FOR RESEARCH USE ONLY AND NOT INTENDED FOR HUMAN OR ANIMAL DIAGNOSTIC OR THERAPEUTIC USES UNLESS OTHERWISE STATED. FOR ADDITIONAL INFORMATION ON QUALITY AT STEMCELL, REFER TO WWW.STEMCELL.COM/COMPLIANCE.