Human Recombinant Galectin-1
Galectin-1
Overview
Galectin-1 (Gal1) was the first characterized member of the galectin family of galactosidase-binding proteins, with over 15 mammalian galectins identified (Camby et al.; Salatino et al.). Gal1 comes in two forms: the oxidized monomer that acts as a cytokine, and the reduced dimer that acts as a lectin (Gaudet et al.). This product is in the dimer form. This cytokine is expressed in many tissues and has an immunosuppressive role in affecting T cell homeostasis by various mechanisms such as regulating apoptosis, cytokine secretion, cell adhesion, cell proliferation, and other effects (Camby et al.; Garín et al.; Gaudet et al.; Salatino et al.). In addition, Gal1 is thought to also play a role in axonal regeneration after injuries (Camby et al.; Garín et al.; Gaudet et al.; Salatino et al.). There are several therapeutic applications suggested for Gal1; overexpression has been suggested as a therapy for autoimmune and inflammatory diseases and enhancing axonal regeneration in injured nerves (Camby et al.; Gaudet et al.). In contrast, inhibition of Gal1 has been suggested to prevent tumor metastasis and cancer progression, as it may aid in cell adhesion, migration, and immune escape of cancer cells (Camby et al.).
Alternative Names
14 kDa laminin-binding protein, 14 kDa lectin, Beta-galactoside-binding lectin L-14-I, GAL1, Galactose-specific lectin-1, Galaptin, LGALS1, S-LAC lectin-1
Area of Interest
Cancer, Immunology
Data Figures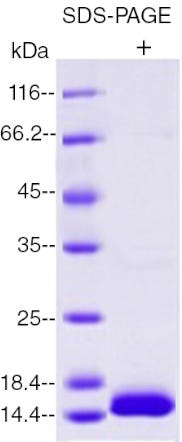 Figure 1.
Human Recombinant Galectin-1 was resolved with SDS-PAGE under reducing (+) conditions and visualized by Coomassie Blue staining. Human Recombinant Galectin-1 monomer has a predicted molecular mass of 15 kDa.
Protocols and Documentation
Find supporting information and directions for use in the Product Information Sheet or explore additional protocols below.
Document Type
Product Name
Catalog #
Lot #
Language
Resources and Publications
Educational Materials
(2)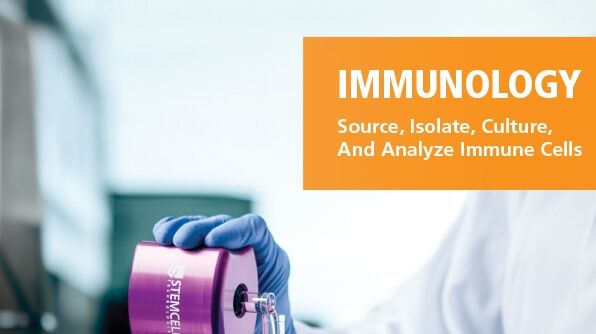 Brochure
Quality Statement:

PRODUCTS ARE FOR RESEARCH USE ONLY AND NOT INTENDED FOR HUMAN OR ANIMAL DIAGNOSTIC OR THERAPEUTIC USES UNLESS OTHERWISE STATED. FOR ADDITIONAL INFORMATION ON QUALITY AT STEMCELL, REFER TO WWW.STEMCELL.COM/COMPLIANCE.