Overview
Ym1 is an ~45 kDa secreted protein synthesized by activated mouse peritoneal macrophages during the inflammatory response elicited by parasitic infections. Ym1 is a granule protein in neutrophils and has been purified from eosinophilic crystals that form in the bronchoalveolar lavage fluid of mev/mev and SHIP (SH2-containing inositol 5' phosphatase) knockout mice. The eosinophilic crystals formed in mice are considered to be histologically identical to the Charcot-Leyden crystals found in humans. Ym1 is homologous to T lymphocyte-derived eosinophil chemotactic factor (ECF-L) but elicits only a weak chemotactic response in eosinophils. Ym1 binds to heparin, GlcN oligomers and heparan sulfate. It belongs to a protein family related to chitinases but does not possess chitinase activity.
Subtype:
Primary Antibodies
Alternative Names:
beta-N-acetylhexosaminidase Ym1, Chi3l3, chitinase-like protein 3, ECF-L, eosinophil chemotactic cytokine, eosinophil chemotactic factor-L, secreted protein Ym1
Conjugation:
Unconjugated
Application:
Immunoblotting; Flow Cytometry; Immunofluorescence; Immunohistochemistry
Area of Interest:
Immunology
Scientific Resources
Product Documentation
Document Type
Product Name
Catalog #
Lot #
Language
Data and Publications
Data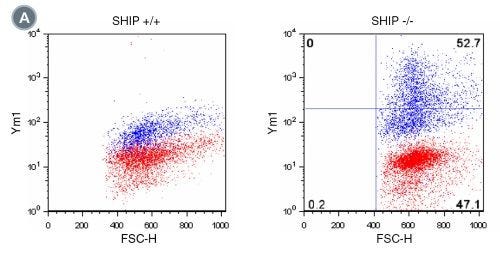 (A) Flow cyometry analysis of peritoneal macrophages from normal (+/+) and SHIP knockout (-/-) mice. Cells were fixed, permeabilized, and labeled with an isotype control antibody (red) or Anti-Ym1 Antibody, Polyclonal, followed by an Alexa Fluor® 488-conjugated anti-rabbit antibody (blue).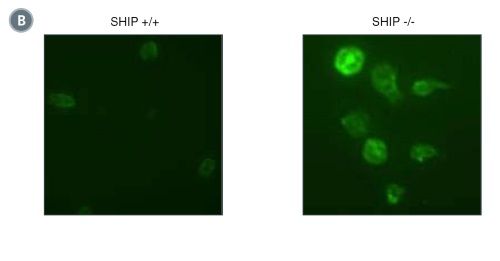 (B) Monocytes isolated from bone marrow of normal and SHIP knockout mice were labeled with Anti-Ym1 Antibody, Polyclonal, followed by an Alexa Fluor® 488-conjugated anti-rabbit antibody.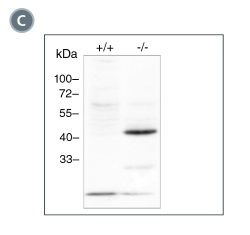 (C) Western blot analysis of cell lysates from mouse peritoneal macrophages isolated from normal and SHIP knockout mice and probed with Anti-Ym1 Antibody, Polyclonal. Ym1 has a predicted molecular mass of ~45 kDa
Alexa Fluor is a registered trademark of Life Technologies Corporation. Antibodies conjugated to Alexa Fluor® are licensed for internal research use only and sale is expressly conditioned on the buyer not using the antibody for manufacturing, performing a service or medical test, or otherwise generating revenue. For use other than research, contact Life Technologies Corporation, 5791 Van Allen Way, Carlsbad, CA 92008 USA or outlicensing@lifetech.com.
STEMCELL TECHNOLOGIES INC.'S QUALITY MANAGEMENT SYSTEM IS CERTIFIED TO ISO 13485. PRODUCTS ARE FOR RESEARCH USE ONLY AND NOT INTENDED FOR HUMAN OR ANIMAL DIAGNOSTIC OR THERAPEUTIC USES UNLESS OTHERWISE STATED.