Hedgehog pathway inhibitor
Hedgehog pathway inhibitor
Overview
HPI-1 is a Hedgehog (HH) pathway inhibitor that suppresses signaling through Sonic HH (IC₅₀ = 1.5 µM) without significantly affecting WNT signaling (IC₅₀ ≥ 30 µM) (Hyman et al.). HPI-1 suppresses HH activation induced by loss of Suppressor of Fused or by Gli overexpression, suggesting action at posttranslational modification of GLI protein or at the interaction of GLI with a co-factor (Hyman et al.).

MAINTENANCE AND SELF-RENEWAL
· Demonstrates the importance of Hedgehog pathway by inhibiting proliferation mediated by the oncogenic Smoothened (SMO) mutant, SMOM2 in cultured cerebellar granule neuron precursor cells (Hyman et al.).

CANCER RESEARCH
· Reduces growth of MDA-MB-231 breast cancer cells (Kwon et al.).
Alternative Names
Hedgehog pathway inhibitor 1; 1,4,5,6,7,8-hexahydro-4-(3-hydroxyphenyl)-7-(2-methoxyphenyl)-2-methyl-5-oxo-3-quinolinecarboxylic acid-2-methoxyethyl ester
Cell Type
Cancer Cells and Cell Lines, Neural Stem and Progenitor Cells
Species
Human, Mouse, Rat, Non-Human Primate, Other
Area of Interest
Cancer, Neuroscience
Chemical Formula
C₂₇H₂₉NO₆ • XH₂O
Molecular Weight
463.5 g/mol
Protocols and Documentation
Find supporting information and directions for use in the Product Information Sheet or explore additional protocols below.
Document Type
Product Name
Catalog #
Lot #
Language
Resources and Publications
Educational Materials
(3)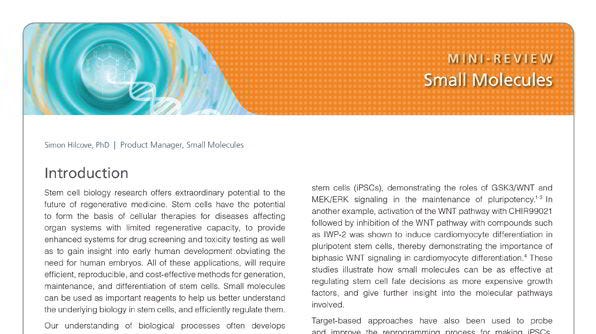 Mini Review
Publications
(2)
Gli1 enhances migration and invasion via up-regulation of MMP-11 and promotes metastasis in ERα negative breast cancer cell lines.
Clinical & experimental metastasis 2011 JUN
Abstract
Gli1 is an established oncogene and its expression in Estrogen Receptor (ER) α negative and triple negative breast cancers is predictive of a poor prognosis; however, the biological functions regulated by Gli1 in breast cancer have not been extensively evaluated. Herein, Gli1 was over-expressed or down-regulated (by RNA interference and by expression of the repressor form of Gli3) in the ERα negative, human breast cancer cell lines MDA-MB-231 and SUM1315. Reduced expression of Gli1 in these two cell lines resulted in a decrease in migration and invasion. Gli1 over-expression increased the migration and invasion of MDA-MB-231 cells with a corresponding increase in expression of MMP-11. Silencing MMP-11 in MDA-MB-231 cells that over-expressed Gli1 abrogated the Gli1-induced enhancement of migration and invasion. Sustained suppression of Gli1 expression decreased growth of MDA-MB-231 in vitro by increasing apoptosis and decreasing proliferation. In addition, silencing of Gli1 reduced the numbers and sizes of pulmonary metastases of MDA-MB-231 in an in vivo experimental metastasis assay. In summary, Gli1 promotes the growth, survival, migration, invasion and metastasis of ERα negative breast cancer. Additionally, MMP-11 is up-regulated by Gli1 and mediates the migration and invasion induced by Gli1 in MDA-MB-231.
Small-molecule inhibitors reveal multiple strategies for Hedgehog pathway blockade.
Proceedings of the National Academy of Sciences of the United States of America 2009 AUG
Abstract
Inappropriate activation of the Hedgehog (Hh) signaling pathway has been implicated in a diverse spectrum of cancers, and its pharmacological blockade has emerged as an anti-tumor strategy. While nearly all known Hh pathway antagonists target the transmembrane protein Smoothened (Smo), small molecules that suppress downstream effectors could more comprehensively remediate Hh pathway-dependent tumors. We report here four Hh pathway antagonists that are epistatic to the nucleocytoplasmic regulator Suppressor of Fused [Su(fu)], including two that can inhibit Hh target gene expression induced by overexpression of the Gli transcription factors. Each inhibitor has a unique mechanism of action, and their phenotypes reveal that Gli processing, Gli activation, and primary cilia formation are pharmacologically targetable. We further establish the ability of certain compounds to block the proliferation of cerebellar granule neuron precursors expressing an oncogenic form of Smo, and we demonstrate that Hh pathway inhibitors can have tissue-specific activities. These antagonists therefore constitute a valuable set of chemical tools for interrogating downstream Hh signaling mechanisms and for developing chemotherapies against Hh pathway-related cancers.
Quality Statement:

PRODUCTS ARE FOR RESEARCH USE ONLY AND NOT INTENDED FOR HUMAN OR ANIMAL DIAGNOSTIC OR THERAPEUTIC USES UNLESS OTHERWISE STATED. FOR ADDITIONAL INFORMATION ON QUALITY AT STEMCELL, REFER TO WWW.STEMCELL.COM/COMPLIANCE.