NEW PneumaCult™-ALI Medium for Air-Liquid Interface Culture of Bronchial Epithelial Cells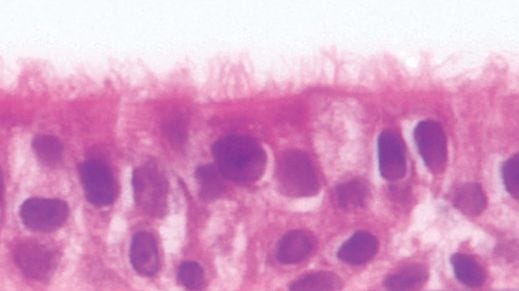 A new culture medium for more physiologically relevant differentiation of human bronchial epithelial cells has been released by STEMCELL Technologies. Cells cultured with PneumaCult™-ALI at the air-liquid interface (ALI) undergo extensive mucociliary differentiation to form a pseudostratified epithelium that closely resembles the human airway.
"Culturing primary human bronchial epithelial cells at the ALI using current methods often results in unsatisfactory and inconsistent differentiation", commented Michael Riedel, a Scientist at STEMCELL Technologies. "Importantly, the morphology of cultures grown in PneumaCult™-ALI more closely and more consistently resemble the human airway, compared to other formulations". Differentiated PneumaCult™-ALI cultures display highly motile cilia, produce and secrete mucus, and develop stable transepithelial electrical resistance.
The development of convenient, yet physiologically relevant in vitro culture systems is critical to research and development on chronic respiratory diseases such as asthma or COPD, and could accelerate the development of inhaled drug formulations. STEMCELL Technologies is proud to support respiratory research with new PneumaCult™-ALI. For more information about PneumaCult™-ALI, please watch our short video or visit our product page.
Contact - STEMCELL Technologies Inc.
Kristy Favell, MSc, Product Manager
STEMCELL Technologies Inc
604.668.0875
About STEMCELL Technologies
STEMCELL Technologies Inc. Inc is a leader in the development and marketing of specialty cell culture media, cell separation products and ancillary reagents for life science research. Driven by science and enabled by close interactions with global leaders in cell biology and medicine, STEMCELL delivers over 1000 products to research scientists in more than 70 countries worldwide. As "Scientists Helping Scientists", STEMCELL delivers over 1000 products to more than 70 countries worldwide and provides leadership with services including hands-on training courses, proficiency testing, and contract services. To learn more about how STEMCELL helps to make research work, visit www.stemcell.com.