The Science Fair Foundation of BC Announces STEMCELL Technologies as New Title Sponsor of the Fun Run
The Science Fair Foundation of BC is excited to welcome STEMCELL Technologies as the new title sponsor of The STEMCELL Science Fair Fun Run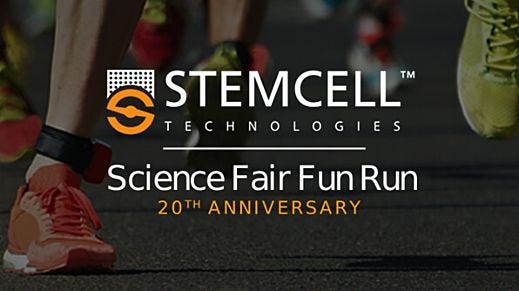 The Science Fair Foundation of BC is excited to welcome STEMCELL Technologies as the new title sponsor of The STEMCELL Science Fair Fun Run! Celebrating its 20th Anniversary on May 26, 2019, the Fun Run attracts participants from the technology community, industry, academia, and K-12 schools for the 5 km timed run or a 1 km Mini Run. This is a great opportunity for families to meet Science Fair participants, view Science Fair projects, and enjoy activities as they await the results and prizes at the Awards Ceremony.
Join us to help celebrate the successes of BC students at both the national and international Science Fairs! The 2018 Canada-Wide Science Fair in Ottawa, Ontario saw the 67 BC students walk away with two Platinum Awards, six Gold medals, 11 Silver medals and 25 Bronze medals! Team BC also performed well at the Taiwan International Science Fair. Aaliyah Mahboubi, the youngest student competing at the event, earned a Bronze medal for her project in the Environmental Science Category, while her teammate, Yimeng Li, received a Silver medal for her project in the same category. Victoria's Grade 12 student Nicolas Fedrigo shone at the European Union Contest for Young Scientists in Dublin, Ireland in September. Nicolas was awarded First Prize for his project "Spinal Fusions: Redesigning the Pedicle Probe to Prevent Vertebral Breaches."
All proceeds from The STEMCELL Science Fair Fun Run will go to the Dr. Michael Smith Science Fair Endowment, which has raised over 1 million dollars in the past 19 years to support Science Fairs across the province. The STEMCELL Science Fair Fun Run is a fun and engaging way to spread the word that BC has some of the most innovative and talented youth in the world.
We invite you to join STEMCELL Technologies and the Science Fair Foundation BC to help celebrate 20 years of Setting the Pace in the Knowledge Race as an event sponsor. For more information please visit:
www.sciencefairs.ca/fun-run/sponsorship
About the Science Fair Foundation of British Columbia
The Science Fair Foundation of British Columbia (SFF BC) is the largest science and technology volunteer outreach network in the Province supporting science education by inspiring curiosity through The Science Fairs Program.
About STEMCELL Technologies
STEMCELL Technologies supports life sciences research with more than 2,500 specialized tools and services. We offer high quality cell culture media, cell separation technologies, instruments, accessory products and educational services that are used by scientists performing stem cell, immunology, cancer, regenerative medicine and cellular therapy research globally.