The 21st Annual STEMCELL Science Fair Fun Run Registration is Now Open!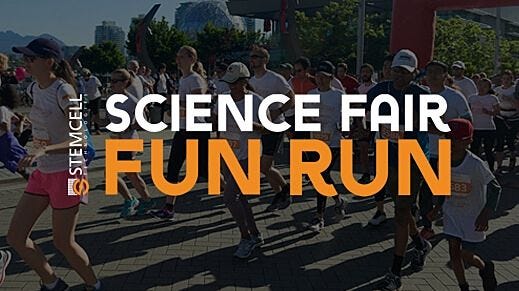 The
Science Fair Foundation of BC
and
STEMCELL Technologies
are excited to announce that early bird registration is now open for the
21st Annual STEMCELL Science Fair Fun Run
! Join us on Sunday, May 24th, 2020 at Athletes Village, Vancouver for the 5K Fun Run or the 1K Mini Run.
This annual fundraising event brings the community together to celebrate and support youth achievements in science and technology. The STEMCELL Science Fair Fun Run is the largest timed 5K race in BC and one of the largest events in BC's technology industry. Music, games and activities as well as giveaways and prizes will make this a fun and engaging day for the whole family!
All proceeds from this event go to The Dr. Michael Smith Science Fair Endowment in support of Science Fair programs across BC. Your participation in the 2020 STEMCELL Science Fair Fun Run will help ensure the success of science fairs and young scientists' in their exploration of science and technology across BC and the Yukon.
This family-oriented event features local Science Fair students from Team BC and Yukon who will be presenting their award winning projects. Each year students from across BC and the Yukon participate in 14 regional Science Fairs for the chance to present their projects and represent their regions as part of Team BC and Yukon at the national event, the Canada-Wide Science Fair.
Science Fairs offer students an opportunity to showcase their own innovative solutions and ground breaking research to their local communities, while connecting with their peers over shared interests and discoveries. Student participation in Science Fairs helps them gain the skills they will need to succeed in a fast-paced, knowledge-based world, and the confidence to tackle the complex issues they encounter. Join us on May 24th to help support the youth in BC and the Yukon as we continue to Set the Pace in the Knowledge Race!
Register Now >
More Information about the Run >
About the Science Fair Foundation of British Columbia
The Science Fair Foundation of British Columbia is the largest science and technology outreach network in the Province working to build British Columbia's future by supporting youth education in science and technology.
About STEMCELL Technologies
STEMCELL Technologies supports life sciences research with more than 2,500 specialized tools and services. We offer high quality cell culture media, cell separation technologies, instruments, accessory products and educational services that are used by scientists performing stem cell, immunology, cancer, regenerative medicine and cellular therapy research globally.