Human Recombinant IL-1RA, ACF
Interleukin 1 receptor antagonist, animal component-free
Overview
Interleukin 1 receptor antagonist (IL-1RA) is a member of the IL-1 family that binds to IL-1 receptors but does not induce any intracellular signaling (Arend et al.). IL-1RA is a natural regulator of IL-1's biological activity. It binds to the IL-1 receptors with similar affinity as IL-1, thereby inhibiting the proinflammatory activities of IL-1ɑ and IL-1ꞵ (Kinne et al.). In particular, mesenchymal stem cells have been shown to enhance tissue repair in an IL-1RA-dependent manner through the suppression of IL-1ꞵ production in dermal macrophages and enhanced expansion of immunosuppressive regulatory T cells in the skin (Harrell et al.). IL-1RA has also been shown to help in the treatment of rheumatoid arthritis (Cutolo), sepsis, asthma (Mao et al.), and inflammatory bowel diseases (Dosh et al.). This product is animal component-free.
Alternative Names
DIRA, ICIL-1RA, IL-1F3, IL-1Ra, IL-1ra3, IL-1RN, IL1F3, IL1ra, IL1RN, IRAP, MVCD4, Interleukin 1RA, Interleukin 1 receptor antagonist
Cell Type
Mesenchymal Stem and Progenitor Cells
Area of Interest
Immunology
Molecular Weight
17.3 kDa
Data Figures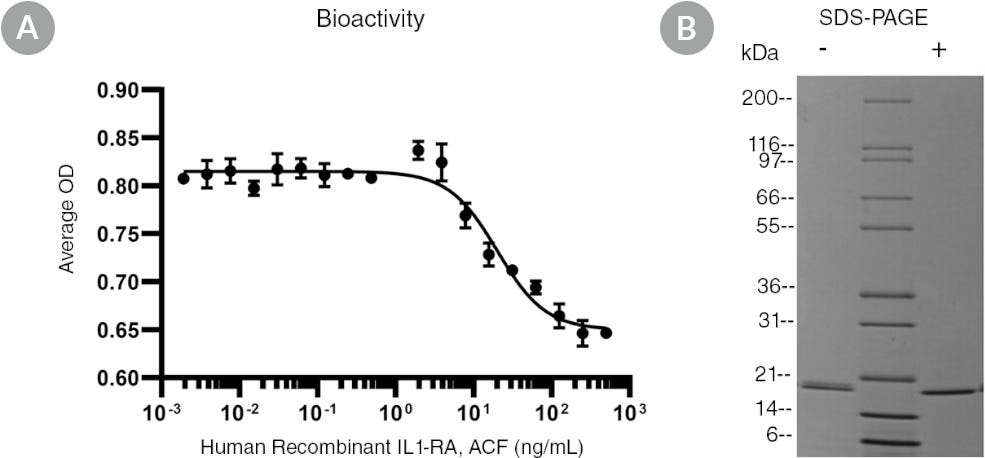 Figure 1.
(A) The biological activity of Human Recombinant IL-1RA, ACF was tested by its ability to inhibit human IL-1 alpha-induced proliferation of D10.G4.1 cells. The EC50 is defined as the effective concentration of growth factor at which cell proliferation is at 50% of maximum. The EC50 in the above example is 18.7 ng/mL. (B) Human Recombinant IL-1RA, ACF was resolved with SDS-PAGE under reducing (+) and non-reducing (-) conditions and visualized by Coomassie Blue staining. Human Recombinant IL-1RA, ACF has a predicted molecular mass of 17.3 kDa.
Protocols and Documentation
Find supporting information and directions for use in the Product Information Sheet or explore additional protocols below.
Document Type
Product Name
Catalog #
Lot #
Language
Resources and Publications
Educational Materials
(2)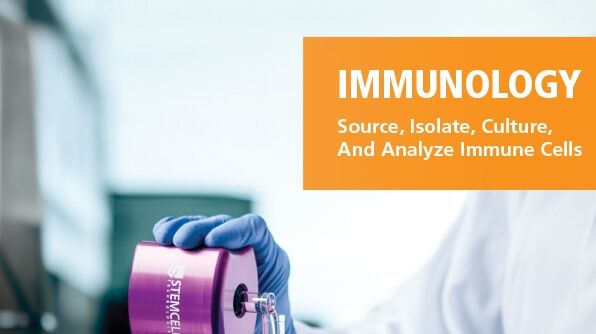 Brochure
Quality Statement:

PRODUCTS ARE FOR RESEARCH USE ONLY AND NOT INTENDED FOR HUMAN OR ANIMAL DIAGNOSTIC OR THERAPEUTIC USES UNLESS OTHERWISE STATED. FOR ADDITIONAL INFORMATION ON QUALITY AT STEMCELL, REFER TO WWW.STEMCELL.COM/COMPLIANCE.