Human Recombinant CCL19 (MIP-3 beta)
Chemokine ligand 19 or macrophage inflammatory protein-3 beta
Overview
Chemokine ligand 19 (CCL19), also known as macrophage inflammatory protein-3 beta (MIP-3β), is a member of the CC chemokine family, which plays key roles in inflammatory responses, T cell activation, homeostasis, and development (Yan et al.). CCL19 is expressed in lymph nodes, thymus, and activated bone marrow stromal cells; it binds to C-C motif chemokine receptor 7 (CCR7) to induce migration of macrophages, T cells, and B cells (Gibejova et al.). Clinically, the expression of CCL19 is correlated to autoimmune diseases such as rheumatoid arthritis and cancer (Pickens et al.; Zhang et al.).
Alternative Names
beta-chemokine exodus-3, CC chemokine ligand 19, ELC, Exodus-3, MIP-3β, SCYA19
Area of Interest
Immunology
Data and Publications
Data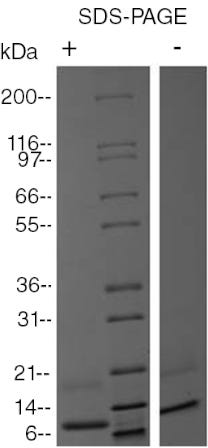 Figure 1.
Human Recombinant CCL19 (MIP-3 beta) was resolved with SDS-PAGE under reducing (+) and non-reducing (-) conditions and visualized by Coomassie Blue staining. Human Recombinant CCL19 (MIP-3 beta) has a predicted molecular mass of 8.8 kDa.
Quality Statement:

PRODUCTS ARE FOR RESEARCH USE ONLY AND NOT INTENDED FOR HUMAN OR ANIMAL DIAGNOSTIC OR THERAPEUTIC USES UNLESS OTHERWISE STATED. FOR ADDITIONAL INFORMATION ON QUALITY AT STEMCELL, REFER TO WWW.STEMCELL.COM/COMPLIANCE.