Human Recombinant gAdiponectin (gAcrp30), ACF
Globular domain of adiponectin, adipocyte component-related protein of 30 kDa, animal component-free
Overview
gAdiponectin, also known as an adipocyte component-related protein of 30 kDa, is a member of defense collagens, and its structure is similar to C1q—a member of the complement-related family of proteins (Chandran et al.). gAdiponectin is expressed by differentiated adipocytes and it is composed of three defined domains: N-terminus-containing hypervariable region, collagenous stalk containing 22 GXY repeats, followed by a C-terminus globular domain (Wang et al.). gAdiponectin has also been identified as a hematopoietic stem cell growth factor (DiMascio et al.), and is known to regulate bone marrow mesenchymal stem cell niche (Yu et al.). The globular domain of adiponectin (gAcrp30) has been shown to significantly reduce plasma-free fatty acids and glucose levels in mice (Wong et al.), and to regulate glucose and fatty acid uptake and oxidation in cardiomyocytes (Palanivel et al.). This product is animal component-free.
Alternative Names
Acrp30, AdipoQ, APM-1, GBP-28, globular domain of adiponectin
Area of Interest
Stem Cell Biology
Molecular Weight
16.7 kDa
Data Figures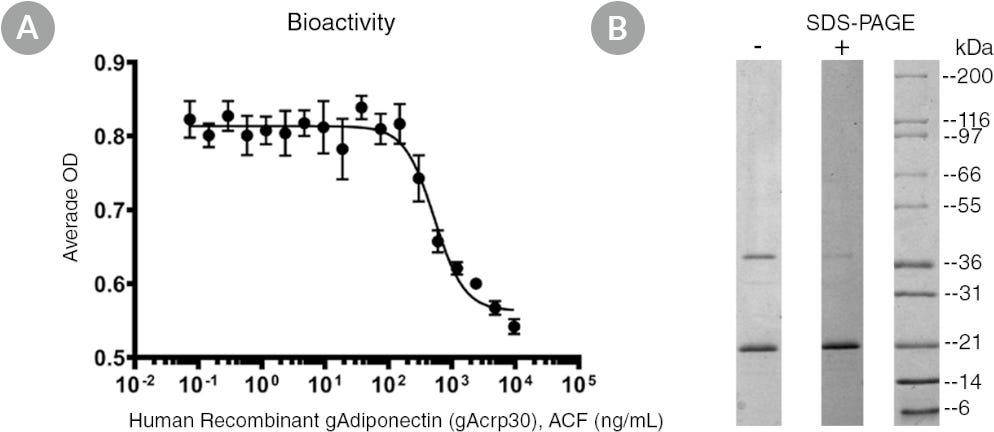 Figure 1.
(A) The biological activity of Human Recombinant gAdiponectin (gAcrp30), ACF was tested by its ability to inhibit M1 cell proliferation. The EC50 is defined as the effective concentration of growth factor at which cell proliferation is at 50% of maximum. The EC50 in the above example is 521 ng/mL. (B) Human Recombinant gAdiponectin (gAcrp30), ACF was resolved with SDS-PAGE under reducing (+) and non-reducing (-) conditions and visualized by Coomassie Blue staining. Human Recombinant gAdiponectin (gAcrp30), ACF has a predicted molecular mass of 16.7 kDa.
Protocols and Documentation
Find supporting information and directions for use in the Product Information Sheet or explore additional protocols below.
Document Type
Product Name
Catalog #
Lot #
Language
Resources and Publications
Educational Materials
(3)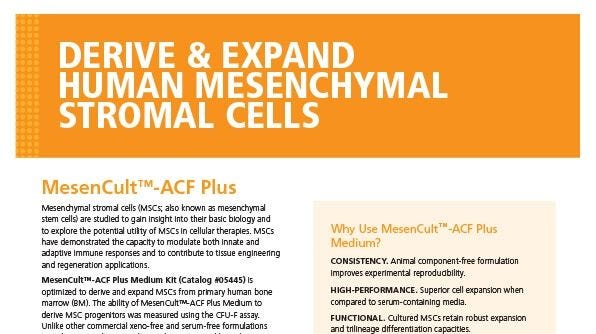 Brochure
Quality Statement:

PRODUCTS ARE FOR RESEARCH USE ONLY AND NOT INTENDED FOR HUMAN OR ANIMAL DIAGNOSTIC OR THERAPEUTIC USES UNLESS OTHERWISE STATED. FOR ADDITIONAL INFORMATION ON QUALITY AT STEMCELL, REFER TO WWW.STEMCELL.COM/COMPLIANCE.