EasySep™ Human PSC-Derived Cardiomyocyte Enrichment Kit
Immunomagnetic negative selection kit
New look, same high quality and support!

You may notice that your instrument or reagent packaging looks slightly different from images displayed on the website, or from previous orders. We are updating our look but rest assured, the products themselves and how you should use them have not changed. Learn more
Required Products

Overview
The EasySep™ Human PSC-Derived Cardiomyocyte Enrichment Kit is designed to isolate human PSC-derived cardiomyocytes from cell cultures by negative selection. Unwanted cells are targeted for removal with Tetrameric Antibody Complexes recognizing non-cardiomyocytes and dextran-coated magnetic particles. The labeled cells are separated using an EasySep™ magnet without the use of columns. Desired cells are poured off into a new tube.
Advantages
• Fast and easy-to-use
• Up to 99% purity
• Isolated cells are untouched
Components
EasySep™ Human PSC-Derived Cardiomyocyte Enrichment Cocktail, 0.5 mL
EasySep™ Dextran RapidSpheres™ 50100, 1 mL
Magnet Compatibility
• EasySep™ Magnet (Catalog #18000)
• "The Big Easy" EasySep™ Magnet (Catalog #18001)
Subtype
Cell Isolation Kits
Selection Method
Negative
Application
Cell Isolation
Area of Interest
Disease Modeling, Drug Discovery and Toxicity Testing
Scientific Resources
Educational Materials
(5)
Product Applications
This product is designed for use in the following research area(s) as part of the highlighted workflow stage(s). Explore these workflows to learn more about the other products we offer to support each research area.
Data and Publications
Data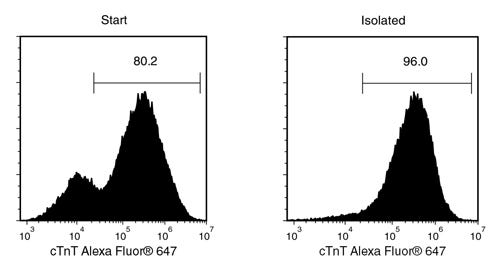 Starting with 1C cells differentiated using STEMdiff™ Cardiomyocyte Differentiation Kit (Catalog #05010), the cTnT+ cell content of the enriched fraction is typically 92.5 ± 7.6% (mean ± SD using the purple EasySep™ Magnet). In the above example, the purities of the start and final enriched fractions are 80.2% and 96.0%, respectively.
Quality Statement:

PRODUCTS ARE FOR RESEARCH USE ONLY AND NOT INTENDED FOR HUMAN OR ANIMAL DIAGNOSTIC OR THERAPEUTIC USES UNLESS OTHERWISE STATED. FOR ADDITIONAL INFORMATION ON QUALITY AT STEMCELL, REFER TO WWW.STEMCELL.COM/COMPLIANCE.