STEMCELL Technologies to Launch CloneR™ to Facilitate Genome Editing of Human Pluripotent Stem Cells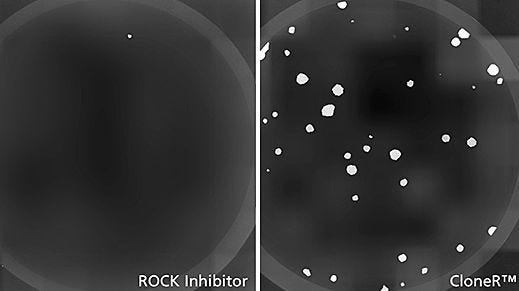 VANCOUVER, BRITISH COLUMBIA, March 29, 2017 – STEMCELL Technologies announces the development of CloneR™, a novel medium formulation to aid researchers in their ability to successfully genome edit human pluripotent stem cells. This supplement represents a dramatic improvement over existing technologies.
Editing the pluripotent stem cell genome relies heavily on the survival of single cells to establish clonal cell lines. CloneR™ is a medium supplement designed for greatly enhancing the cloning efficiency and single-cell survival of pluripotent stem cells. Unlike current methods, CloneR™ will enable the robust generation of clonal cell lines without single-cell adaptation, thus minimizing the risk of acquiring genetic abnormalities. Such irregularities bear a close resemblance to those found in many human cancers, raising safety concerns for the use of these cells in regenerative medicine.
"As the market-leader for the development of innovative products for pluripotent stem cell research, we are delighted to announce the imminent launch of CloneR™," says Dr. Allen Eaves, CEO and President of STEMCELL Technologies. "We are confident that this new invention will enable researchers by improving their capacity for disease modeling, drug screening and the development of cell and gene therapies for regenerative medicine."
CloneR™ will build upon STEMCELL's extensive portfolio of products to support pluripotent stem cell research, including mTeSR™1, the most widely published feeder-free maintenance medium on the market. The CloneR™ supplement will be manufactured using STEMCELL's rigorous raw material screening and quality control processes certified under ISO 13485, Medical Devices Standards. This will ensure that the final product is of the highest quality, with maximal performance and minimal lot-to- lot variability.
To receive a notification of the product launch, sign up here: www.stemcell.com/CloneR
Contact
Andrew Gaffney, PhD
Senior Product Marketing Manager
STEMCELL Technologies Inc.
Andrew.Gaffney@STEMCELL.com
+1 604.668.1670
About STEMCELL Technologies
STEMCELL Technologies helps power leading-edge life science research globally. The company offers highly specialized cell culture media, cell separation products, instruments, accessory products and educational tools that support scientists performing stem cell, immunology, cancer, regenerative medicine and cellular therapy research.