STEMCELL Technologies Receives ISO 13845:2003 Certification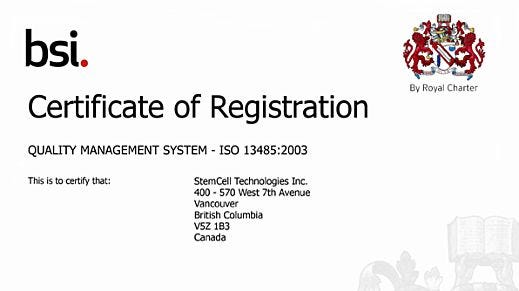 VANCOUVER, May 26, 2009 - STEMCELL Technologies Inc (STEMCELL), a leader in specialty cell culture media, cell separation products and ancillary reagents for life science research, is pleased to announce that it has successfully achieved ISO 13485:2003 certification for its research, manufacturing and shipping facilities in Vancouver, BC, Canada and Tukwila, WA, USA.

"This certification attests that STEMCELL fully complies with the requirements for quality management systems for medical devices in the design, manufacturing and distribution of In Vitro Diagnostic products, Research Use Only products, reagents and laboratory equipment," states Marlon Diaz, STEMCELL's Quality Assurance Manager. "These Research Use Only products are complemented by services including contract assays, proficiency testing and training."

STEMCELL achieved the certification from a third-party registrar, BSI Management Systems, reaffirming STEMCELL's commitment to quality products, customer service and continuous improvement.

ISO 13485:2003 is an internationally recognized Quality Management standard for medical devices for regulatory purposes. The standard specifies requirements for key processes surrounding the provision of products and related services. These processes are monitored to ensure that product quality objectives, customer requirements and regulatory requirements are consistently met.
About STEMCELL Technologies Inc.
As Scientists Helping Scientists, STEMCELL Technologies Inc. is committed to providing high-quality cell culture media, cell isolation products and accessory reagents for life science research. Driven by science and a passion for quality, STEMCELL Technologies provides over 1500 products to more than 70 countries worldwide. Our specialty cell culture reagents, instruments and tools are designed to support science along the basic to translational research continuum. To learn more, visit www.stemcell.com.