STEMCELL Technologies Opens New Office and Laboratories in Cambridge, UK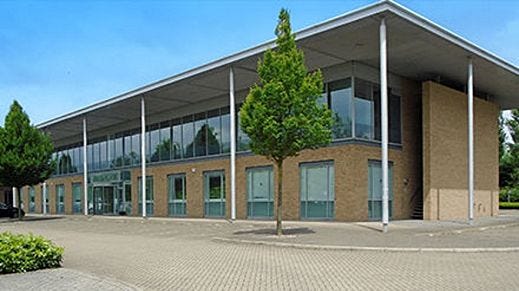 CAMBRIDGE, ENGLAND, January 31st, 2017 – STEMCELL Technologies UK has recently celebrated the grand opening of their Cambridge-based facility. Founded by Dr. Allen Eaves, STEMCELL provides specialized reagents and tools that support research on cancer and other diseases, as well as cell therapy and regenerative medicine globally. Cambridge is a leading global hub for stem cell research. This, combined with its proximity to STEMCELL's customers in the UK and Europe, makes the location a natural choice for continued investment by the company
STEMCELL recently took possession of an 18,000 square foot building located in the Cambridge Research Park. STEMCELL has now consolidated existing UK staff into the facility, which at full capacity will house a substantial Research and Development group, as well as Sales, Marketing and other support staff.
A major focus of the new facility will be a state-of-the-art Education and Teaching Lab. STEMCELL offers several standard and customized training courses and workshops, which are currently hosted within collaborating academic lab facilities. The multi-day, interactive courses are designed to help researchers develop expertise in protocols and techniques supported by STEMCELL's products. Several of these world-class courses will soon be offered in the new Cambridge facility, making them more accessible to researchers in the UK and Europe.
Dr. Allen Eaves, CEO and President of STEMCELL Technologies, commented:
"STEMCELL is committed to driving the advancement of science by offering the highest quality products and services to support scientists with their research. We are thrilled to be officially opening our new Cambridge office, including our Research and Development labs and Education Centre. STEMCELL has seen fantastic growth, and this facility will take us to the next level in supporting medical sciences research globally, as well as open our doors to the incredible biomedical expertise in the UK and Europe."
About STEMCELL Technologies
As a company of Scientists Helping Scientists, STEMCELL Technologies is committed to providing high-quality reagents, tools and services supporting life sciences research. Scientists performing stem cell, immunology, cancer, regenerative medicine and cellular therapy research rely on STEMCELL's cell culture media, cell separation products, instruments, accessory reagents, and scientific services. Driven by science and a passion for quality, over 2500 STEMCELL products are available to researchers worldwide.