Now Available! Isolate Untouched Human Plasmacytoid Dendritic Cells (pDCs) with EasySep™ Human pDC Enrichment Kit (Catalog #19062)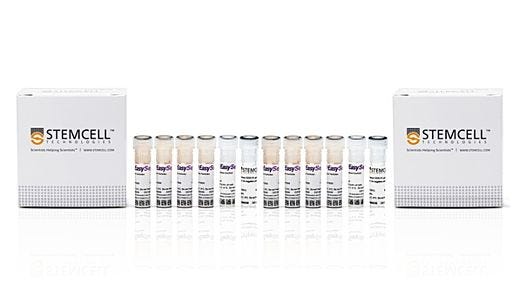 The fastest kit available for the isolation of highly purified untouched pDCs.

STEMCELL Technologies is delighted to announce the new release of , a new immunomagnetic, column-free method for the optimal recovery of purified human pDCs by negative selection.
Current methods for the isolation of pDCs require time-consuming flow cytometry sorting or selection of cells that pass through columns or tubing. These methods can result in low recovery of cells or mechanically disrupted cells that are not ideal for functional studies.

The new EasySep™ Human offers a quick and easy method to enrich unlabeled pDCs from PBMC by depletion of unwanted labeled cells. Enriched pDCs are immediately available for use in viral antigen uptake and processing studies1, T cell activation and cross priming experiments2-5, and innate and adaptive immunity research6-7.


ADVANTAGES:

QUICK, EASY, and GENTLE
Isolate pDCs 33% faster without columns or washes required.

HIGH YIELD and PURITY
Get purities up to 97% with high recovery.

UNTOUCHED CELLS
Use cells immediately in downstream applications.
Learn more about our .
Please see our other dendritic cell isolation kits:





References
1 Geissmann, F., Jung, S., Lettman, D.R. 2003. Blood monocytes consist of two principal subsets with distinct migratory properties. Immunity 19: 71-82.

2 Varol, C., Landsman, L, Fogg, DK., Greenshtein, L., Gildor, B., et al. 2007. Monocytes give rise to mucosal, but not splenic, conventional dendritic cells. J. Exp. Med. 204: 171-80.

3 Iwasaki, H., Akashi, K. 2007. Myeloid lineage commitment from the hematopoietic stem cell. Immunity. 16: 726-40.

4 Liu, K., Waskow, C., Liu, X., Yao, K., Hoh, J., Nussenzwieg M. 2007. Origin of dendritic cells in peripheral lymphoid organs of mice. Nature Immunology 8: 578 – 83.

5 O'Keeffe, M., Hochrein, H., Vremec, D., Scott, B., Hertzog, P., et. al. 2003. Dendritic cell precursor populations of mouse blood; identification of the murine homologues of human blood plasmacytoid pre-DC2 and CD11c+ DC1 precursors. Blood. 101: 1453-1459.

6 Tacke, F., Ginhoux, F., Jakubzick, C., van Rooijen, N., Merad, M., Randolph, G.J. 2006. Immature monocytes acquire antigens from other cells in the bone marrow and present them to T cells after maturing in the periphery. J. Exp. Med. 203: 583-597.

7 Geissmann, F., Auffray, C., Palframan, R., Wirrig, C., Ciocca, A., Campisi, L., Narni-Mancinelli, E., Lauvau, G. 2008. Blood monocytes: distinct subsets, how they relate to dendritic cells, and their possible roles in the regulation of T-cell responses. Nature Review 86: 398-408.