Xeno-free, defined, feeder-free medium for maintenance of undifferentiated human ES and iPS cells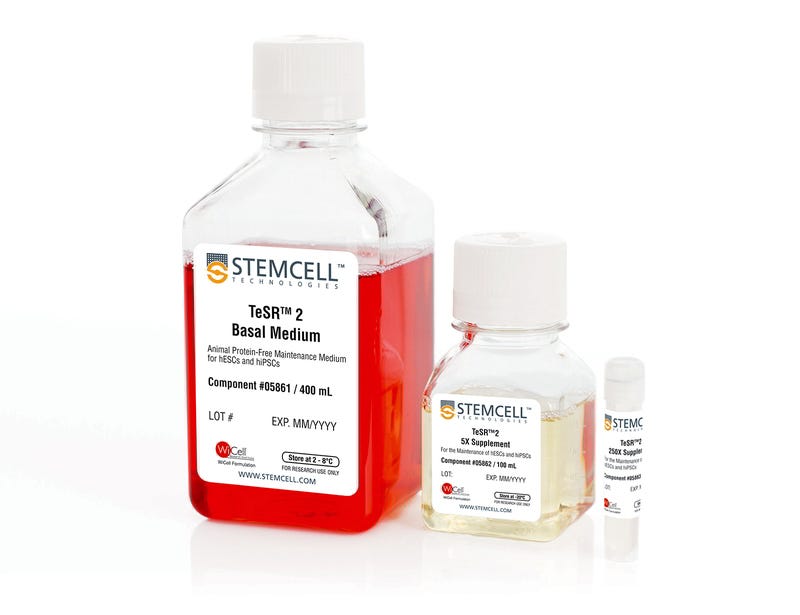 Request Pricing
Thank you for your interest in this product. Please provide us with your contact information and your local representative will contact you with a customized quote. Where appropriate, they can also assist you with a(n):
Estimated delivery time for your area
Product sample or exclusive offer
In-lab demonstration
By submitting this form, you are providing your consent to STEMCELL Technologies Canada Inc. and its subsidiaries and affiliates ("STEMCELL") to collect and use your information, and send you newsletters and emails in accordance with our
privacy policy
. Please
contact us
with any questions that you may have. You can unsubscribe or change your
email preferences
at any time.
Overview
TeSR™2 is an improved version of mTeSR™1 which provides the same high-quality and robust system for feeder-free maintenance of human ES cells and iPS cells while enabling a more defined and xeno-free culture environment for basic research, stem cell banking, high-throughput studies and pre-clinical applications. Closely related to mTeSR™1, the most-published medium for the culture of human ES and iPS cells without feeders, TeSR™2 combines the advantages of a feeder-free culture system with the added value of being free of xenogenic components.
Subtype
Specialized Media
Cell Type
Pluripotent Stem Cells
Application
Cell Culture, Expansion, Maintenance
Area of Interest
Stem Cell Biology
Formulation Category
Serum-Free, Xeno-Free
Data Figures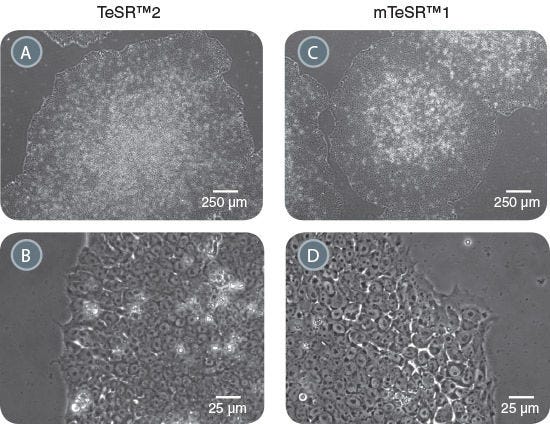 Figure 1. Morphology of hPSCs Maintained in TeSR™2 is Comparable to hPSCs Cultured in mTeSR™1
(A,B) Undifferentiated human ES (H9) cells cultured on Corning® Matrigel® matrix in TeSR™2 retain the prominent nucleoli and high nuclear-to-cytoplasm ratio characteristic of this cell type. Densely packed cells and multi-layering are apparent when cells are ready to be passaged. (C,D) H9 cells cultured under the same conditions in mTeSR™1 exhibit comparable morphology.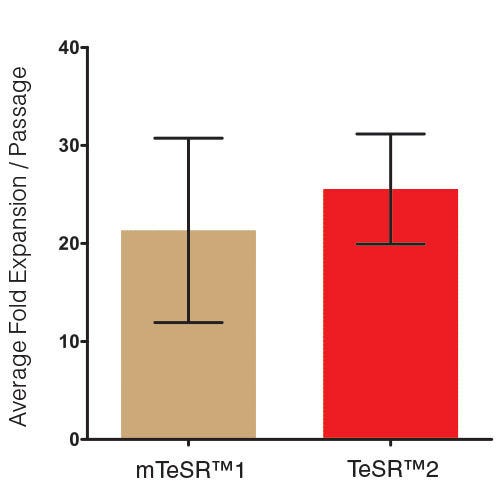 Figure 2. Fold and Cumulative Aggregate Expansion in TeSR™2
Graph shows the average fold expansion per passage ± SEM obtained for human ES and iPS cells cultured in mTeSR™1 (brown) or TeSR™2 (red) with Corning® Matrigel® over 10 passages. Expansion was determined by counting the cell aggregates obtained at harvest and dividing by the number of cell aggregates seeded.
Note: This data is representative of cultures passaged after 5-6 days in culture, lower expansion should be expected if using shorter culture times.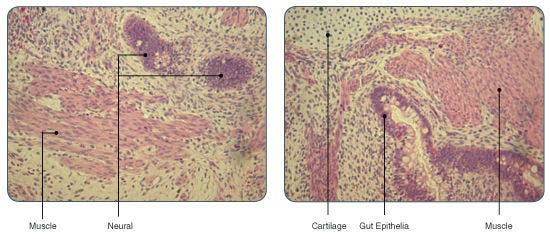 Figure 3. hESCs Cultured in TeSR™2 Are Pluripotent
H9 cells were cultured for 11 passages in TeSR™2, then injected subcutaneously into NOD-SCID mice. The resulting teratomas contained cell types from all 3 germ layers. Representative tissue types are shown.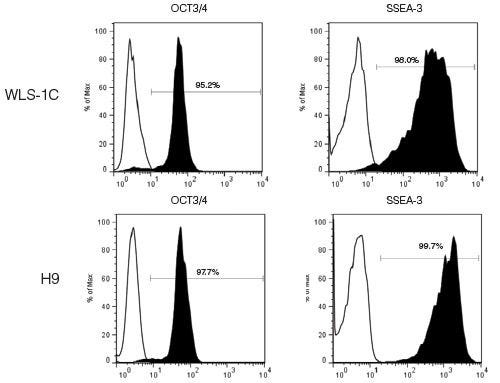 Figure 4. Human Pluripotent Stem Cells Cultured in TeSR™2 Retain Expression of Undifferentiated Cell Markers
Histogram analysis for H9 human ES and WLS-1C human iPS cells characterized using flow cytometry for undifferentiated cell markers (SSEA-3 and OCT3/4) after passaging in TeSR™2 for 21 passages (WLS-1C) and 18 passages (H9) respectively (filled histogram = sample, hollow histogram = secondary antibody only).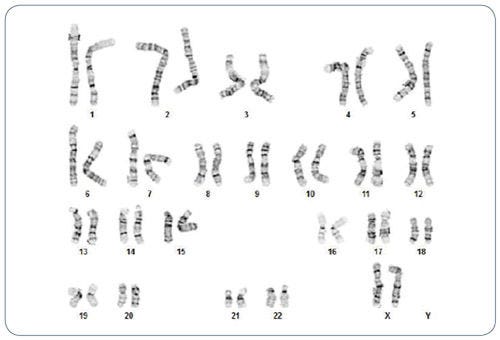 Figure 5. Human ES Cells Cultured Long-Term in TeSR™2 Retain Normal Karyotype
Chromosomal analysis of H9 hES cells cultured in TeSR™2 for 12 passages shows that normal karyotype is retained during passaging.
Protocols and Documentation
Find supporting information and directions for use in the Product Information Sheet or explore additional protocols below.
Document Type
Product Name
Catalog #
Lot #
Language
Applications
This product is designed for use in the following research area(s) as part of the highlighted workflow stage(s). Explore these workflows to learn more about the other products we offer to support each research area.
Resources and Publications
Educational Materials
(6)
Publications
(27)
Development and characterization of a human embryonic stem cell-derived 3D neural tissue model for neurotoxicity testing.
Toxicology in vitro : an international journal published in association with BIBRA 2017 FEB
Abstract
Alternative models for more rapid compound safety testing are of increasing demand. With emerging techniques using human pluripotent stem cells, the possibility of generating human in vitro models has gained interest, as factors related to species differences could be potentially eliminated. When studying potential neurotoxic effects of a compound it is of crucial importance to have both neurons and glial cells. We have successfully developed a protocol for generating in vitro 3D human neural tissues, using neural progenitor cells derived from human embryonic stem cells. These 3D neural tissues can be maintained for two months and undergo progressive differentiation. We showed a gradual decreased expression of early neural lineage markers, paralleled by an increase in markers specific for mature neurons, astrocytes and oligodendrocytes. At the end of the two-month culture period the neural tissues not only displayed synapses and immature myelin sheaths around axons, but electrophysiological measurements also showed spontaneous activity. Neurotoxicity testing - comparing non-neurotoxic to known neurotoxic model compounds - showed an expected increase in the marker of astroglial reactivity after exposure to known neurotoxicants methylmercury and trimethyltin. Although further characterization and refinement of the model is required, these results indicate its potential usefulness for in vitro neurotoxicity testing.
An Effective and Reliable Xeno-free Cryopreservation Protocol for Single Human Pluripotent Stem Cells.
Methods in molecular biology (Clifton, N.J.) 2016 APR
Abstract
Efficient cryopreservation of human pluripotent stem cells (hPSCs) in chemically defined, xeno-free conditions is highly desirable for medical research and clinical applications such as cell-based therapies. Here we present a simple and effective slow freezing-rapid thawing protocol for the cryopreservation of feeder-free, single hPSCs. This cryopreservation protocol involves the supplementation of 10 % dimethyl sulfoxide (DMSO) and 10 $$M Rho-associated kinase inhibitor Y-27632 into two types of xeno-free, defined media supplements (Knockout Serum Replacement and TeSR2). High post-thaw cell recovery (˜90 %) and cell expansion (˜70 %) can be achieved using this protocol. The cryopreserved single cells retain the morphological characteristics of hPSCs and differentiation capabilities of pluripotent stem cells.
Efficient Expansion of Dissociated Human Pluripotent Stem Cells Using a Synthetic Substrate.
2016
Abstract
Human pluripotent stem cells (hPSCs), including human embryonic stem cells and human-induced pluripotent stem cells, are a renewable cell source for a wide range of applications in regenerative medicine and useful tools for human disease modeling and drug discovery. For these purposes, large numbers of high-quality cells are essential. Recently, we showed that a biological substrate, recombinant E8 fragments of laminin isoforms, sustains long-term self-renewal of hPSCs in defined, xeno-free medium with dissociated single-cell passaging. Here, we describe a modified culture system with similar performance to efficiently expand hPSCs under defined, xeno-free conditions using a non-biological synthetic substrate.
Legal Statement:

This product was developed under license to intellectual property owned by WiCell™ Research Institute. This product is sold for research use only (whether the buyer is an academic or for-profit entity) under a non-transferable, limited-use license. Purchase of this product does not include the right to sell, use or otherwise transfer this product for commercial purposes (i.e., any activity undertaken for consideration, such as use of this product for manufacturing, or resale of this product or any materials made using this product, or use of this product or any materials made using this product to provide services) or clinical use (i.e., administration of this product or any material using this product to humans) or the right to implant any material made using this product into an animal by, or in collaboration with, a for-profit entity, for purposes other than basic pre-clinical research applications (including without limitation teratoma assays) to validate the function of the cells. Purchasers who do not agree to the terms and conditions set forth above should return the product in acceptable conditions to the seller for a refund.

Quality Statement:

PRODUCTS ARE FOR RESEARCH USE ONLY AND NOT INTENDED FOR HUMAN OR ANIMAL DIAGNOSTIC OR THERAPEUTIC USES UNLESS OTHERWISE STATED. FOR ADDITIONAL INFORMATION ON QUALITY AT STEMCELL, REFER TO WWW.STEMCELL.COM/COMPLIANCE.