Eric Song discusses his work in the Iwasaki lab developing therapeutic strategies against brain tumors
Priming the Immune System Against Brain Tumors
Eric Song, MD/PhD Student, Yale University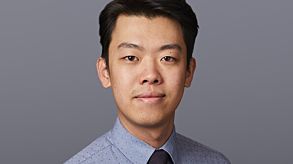 Eric Song is an MD/PhD student supervised by Dr. Akiko Iwasaki at Yale University. In this interview, Eric shares how his passion for making a difference in patients' lives led him to investigate ways to prime the immune system against brain tumors.
Eric's Story: Bridging the Gap Between Science and Medicine
What inspired you to pursue a career in science?
My career in science was inspired by my college roommate's father, Dr. Donald Shaul, a pediatric surgeon, who introduced me to how emotionally rewarding and intellectually stimulating medicine could be. Since then, I've had amazing mentors who showed me how research and science can help guide therapies that can one day help patients. The combination of humanism in medicine and the excitement of discovery in science is what inspired me to pursue a career as an MD/PhD.
Tell us about your scientific journey. How did you come to work in your current research field?
After my undergraduate degree, I completed a Master's degree at Johns Hopkins University to learn more about medicine and research. My primary research experience before that had involved working with chronically-ill pediatric patients at the Los Angeles Children's Hospital with Dr. Danica Liberman. I joined Dr. Justin Hanes' and Dr. Jungsoo Suk's lab at Johns Hopkins, where I worked on developing strategies to help treat chronic diseases such as cystic fibrosis and pediatric brain tumors.
Brain tumors provided a unique challenge that I gravitated towards, both scientifically and clinically. So, after completing my Master's degree, I took the opportunity to work with Drs. Mark Saltzman and Akiko Iwasaki at Yale University, and explore both engineering and immunology approaches to discovering therapeutic strategies against brain tumors.
Priming the Immune System Against Brain Tumors
Tell us about your latest research.
As immunotherapy gains traction, there is a lot of focus on increasing the effector responses of immune cells to eradicate tumors. Brain tumors pose additional challenges because, at baseline, there are not enough activated immune cells to fight off the tumor. Our findings focused on amplifying the immune response at the priming stage, which proved to be synergistic with current immunotherapy strategies.
In your recent Nature publication, you described a novel role for vascular endothelial growth factor C (VEGF-C) in promoting immunosurveillance of tumors in the brain. How do you think your findings could impact the field?
It's important to remember that several checkpoints exist in being able to mount an effective immune response, and only when all of these are addressed can we have effective treatments. Following up on our findings discussed in the publication, it will be interesting to see other immune checkpoints that are present in primary brain tumors, whether it be molecular or anatomical. With this in mind, I hope our findings begin to challenge the dogma around why brain tumors might be immunologically "cold", i.e. unable to mount an effective anti-tumor immune response, and offer opportunities to investigate novel strategies to convert these tumors into a "hot" tumor.
Where do you see your research going in the next 5 years?
I am now studying some of these other immune checkpoints that I discussed previously, which may limit mounting effective immune responses against brain tumors. I imagine a sort of checklist of rules that will be derived from our research that will allow for effective treatment strategies to be developed. For the project on how VEGF-C promotes immunosurveillance of tumors in the brain, we are collaborating with other companies and stakeholders to develop clinically relevant products and strategies to deliver to patients. 5 years may be ambitious, but I hope our work will lead to new therapies for brain tumor patients within the near future!
Science Is All About the People
What do you find most enjoyable and most challenging about scientific research?
The most enjoyable and challenging aspect of scientific research (and probably anything else) is the people. We all have interactions that raise us up or bring us down, but I think it is important to focus on the positive interactions and continue developing yourself to also be a positive influence around others. I am lucky to be surrounded by people who are teaching me how to accomplish this every day.
What are some of the best tips or advice that you would tell new graduate students entering academia?
Honestly, I am still trying to figure things out. But what has suited me well is to follow and believe in people. Things don't always go the way you think they will, but the people around you provide support during these times which makes all the difference.
Isolating T Cells, B Cells, and Dendritic Cells
Why did you decide to use EasySep™, and how has it enabled the advancement of your research?
We use EasySep™ because of its ease of use and the high purity that we get from the preparation. I especially like the negative selection kits because it allows us to keep the cells that we collect as undisturbed as possible.
Why do you choose to continue using STEMCELL products?
Many processes in the body are complicated, and the effects we often see are not limited to one cellular compartment. By using the STEMCELL products, we have a great tool that allows us to quickly and easily investigate biological effects in isolated cellular compartments, which gives us an opportunity to answer more in-depth scientific questions.
Learn More About Immune Cell Isolation Using EasySep™

How Does EasySep™ Work?
Watch this video to see how you can quickly and easily isolate highly purified immune cells.

Try EasySep™ in Your Lab
Isolate highly purified immune cell subsets in as little as 8 minutes with a simple pour.
View more Immunology Profiles or nominate yourself to be featured in a profile piece.
Featured Cell Separation Products
Request Pricing
Thank you for your interest in this product. Please provide us with your contact information and your local representative will contact you with a customized quote. Where appropriate, they can also assist you with a(n):
Estimated delivery time for your area
Product sample or exclusive offer
In-lab demonstration
By submitting this form, you are providing your consent to STEMCELL Technologies Canada Inc. and its subsidiaries and affiliates ("STEMCELL") to collect and use your information, and send you newsletters and emails in accordance with our
privacy policy
. Please
contact us
with any questions that you may have. You can unsubscribe or change your
email preferences
at any time.