The mammary gland is a dynamic organ that undergoes extensive morphological changes through development, puberty, pregnancy, lactation and involution. Maintenance of the mammary epithelium during all of these stages is via mammary stem/progenitor cells.
Below is a collection of resources to support your mammary research.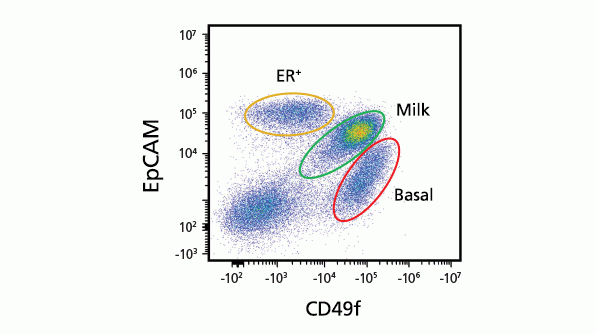 Featured
This mini-review describes the organization of mammary epithelium, identification of mammary stem and progenitor cells, phenotypic profiling and cell culture methods for mammary epithelial cells, as well as the current understanding of mammary stem cells in the context of breast cancer.
Read More >
Page
You're currently reading page

2
Shop By
Filter Results
Resource Type

Video 9

items

Webinar 4

items

Product Type

Cell Culture Media and Supplements 4

items

Cell Dyes and Detection Assay Kits 5

items

Cell Isolation Products 1

item

Training and Education 1

item

Area of Interest

Cancer 10

items

Cord Blood Banking 4

items

Disease Modeling 1

item

Drug Discovery and Toxicity Testing 7

items

Epithelial Cell Biology 2

items

Immunology 1

item

Neuroscience 5

items

Stem Cell Biology 8

items

Transplantation Research 3

items

Brand

ALDECOUNT 5

items

ALDEFLUOR 9

items

AggreWell 1

item

EasySep 1

item

EpiCult 3

items

ImmunoCult 1

item

MammoCult 6

items

MesenCult 3

items

MethoCult 3

items

NeuroCult 3

items

ProstaCult 3

items

Cell Type

Brain Tumor Stem Cells 3

items

Cancer Cells and Cell Lines 4

items

Hematopoietic Stem and Progenitor Cells 6

items

Hepatic Cells 1

item

Leukemia/Lymphoma Cells 1

item

Lymphocytes 1

item

Mammary Cells 10

items

Mesenchymal Stem and Progenitor Cells 4

items

Mononuclear Cells 1

item

Myogenic Stem and Progenitor Cells 1

item

Neural Cells, PSC-Derived 1

item

Neural Stem and Progenitor Cells 6

items

Other 1

item

Pluripotent Stem Cells 2

items

Prostate Cells 5

items

T Cells 1

item

T Cells, CD8+ 1

item
Science News
Stay up to date on the latest publications by subscribing to Mammary News.