Pulmonary Models
With Contract Assay Services
Physiologically relevant in vitro lung models that closely resemble the in vivo human airway are critical for enabling pulmonary research. Conventional submerged culture systems do not adequately capture the complex morphological and functional characteristics of the in vivo human airway, and animal primary cell models can have limited experimental windows and lack perfect homology to human systems. To address these limitations, air-liquid interface (ALI) culture of human primary airway epithelial cells is being increasingly adopted as a model system for the in vivo human airway epithelium.
To help you evaluate the effects of your investigative compounds on the human airway, Contract Assay Services (CAS) offers services using ALI cultures of airway epithelial cells. CAS uses a serum- and bovine pituitary extract-free culture system, PneumaCult™, that is specifically designed for the robust expansion and ALI differentiation of primary human airway epithelial cells.
Physiological Relevance of Air-Liquid Interface Culture
Human bronchial epithelial cells (HBECs) cultured at the ALI undergo extensive mucociliary differentiation, resulting in an in vitro model that is representative of the in vivo airway (Figure 1). Hematoxylin and eosin (H&E) and periodic acid-Schiff (PAS) staining show that ALI cultures (Figure 2A and 2C), like the in vivo bronchial epithelium (Figure 2B and 2D), are pseudostratified in morphology and are made up of a heterogeneous cell population, including ciliated and mucus-secreting (PAS-positive) cells.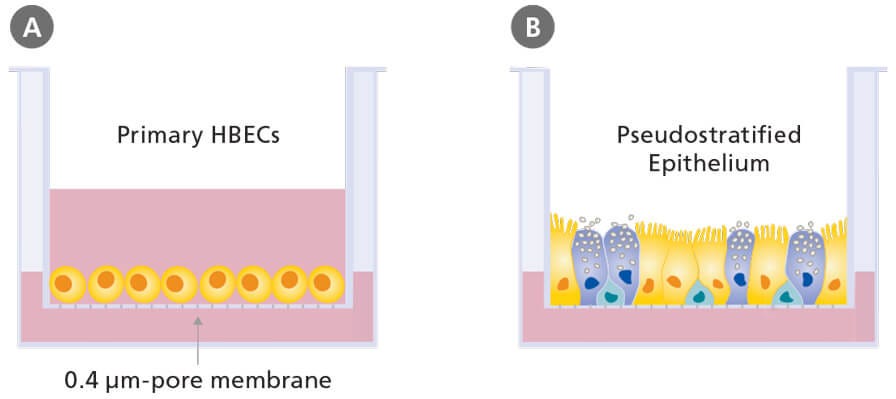 Figure 1. Air-Liquid Interface Culture
Schematic of (A) submerged (B) and air-liquid interface culture of primary human bronchial epithelial cells grown using porous culture inserts.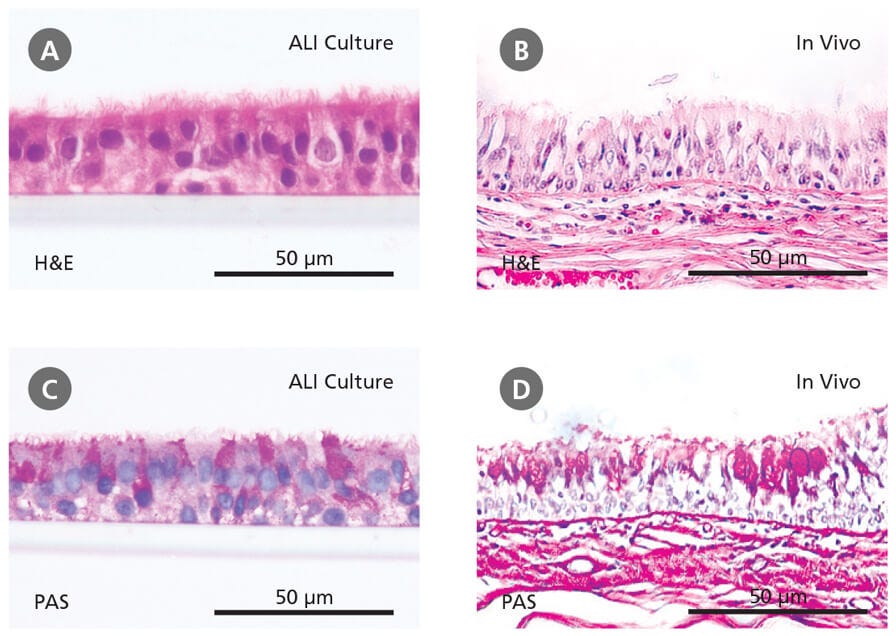 Figure 2. Primary Human Bronchial Epithelial Cells Cultured at the Air-Liquid Interface Recapitulate the In Vivo Bronchial Epithelium
Hematoxylin and eosin (H&E) and periodic acid-Schiff (PAS) staining reveals that cells differentiated at the air-liquid interface in (A,C) PneumaCult™-ALI Medium form a pseudostratified epithelium that is representative of (B,D) the in vivo bronchial epithelium. Data in (A) and (C) generated by Samuel Wadsworth.
The ALI airway model is also characterized by the development of epithelial barrier function, as indicated by the expression of tight junction proteins and the development of high transepithelial electrical resistance.1 The suitability of ALI cultures for modeling the airway has been further confirmed through transcriptome analyses2 and a wide range of experiments demonstrating physiological responses to insults such as toxicants and pathogens.3-5 Furthermore, ALI cultures of primary cells from donors with respiratory disease (e.g. asthma, cystic fibrosis, COPD) recapitulate in vivo disease characteristics, forming robust in vitro models of these conditions.6,7
Pulmonary Services Using ALI Culture
ALI culture holds enormous potential as an in vitro pulmonary model. This includes a number of highly specialized applications for which submerged culture techniques provide inadequate models.
Use ALI cultures of airway epithelial cells in customized services from CAS to:
ALI cultures are the most physiologically relevant model for studying the respiratory epithelium in vitro.1
Airway epithelial cells from patients with chronic respiratory diseases such as cystic fibrosis, COPD and asthma, can be cultured using ALI techniques, enabling disease mechanisms to be studied in vitro.6,7 Test compounds can be administered to evaluate effects on diseased or healthy-state ALI cultures.
Some respiratory viruses selectively target cell types present only in fully differentiated airway cell cultures.8,9
CAS also offers ALI culture-based services to evaluate the effect of client-submitted test or reference compounds on the modulation of epithelial barrier function.
Assessment of Electrophysiological Function
ALI cultures initiated with HBECs expanded in PneumaCult™-Ex Medium were characterized electrophysiologically to examine Trans-Epithelial Electrical Resistance (TEER), which measures the integrity and health of the confluent epithelial layer, and Short Circuit Current (Isc), which measures the active transport of ions across the epithelial cell layer and is determined using an Ussing Chamber. The expanded HBECs demonstrate barrier integrity, indicated by TEER values at each passage (Figure 3A). Ion transport activities are observed across the epithelial cell layer, indicated by drug-responsiveness, specifically for the epithelial sodium channel (ENaC) and Cystic Fibrosis Transmembrane Conductance Regulator (CFTR) channel (Figure 3B).

Figure 3. Electrophysiological Characterization of Differentiated HBECs (P4) Expanded in PneumaCult™-Ex Medium
(A) TEER and (B) representative characterization of the ion channel activities for ALI cultures at 28 days post air-lift using HBECs expanded in PneumaCult™-Ex Medium. Amiloride: ENaC inhibitor; IBMX and Forskolin: CFTR activators; Genistein: CFTR potentiator; CFTRinh-172: CFTR inhibitor; UTP: calcium-activated chloride channels (CaCCs) activator. ALI differentiation cultures were performed using PneumaCult™-ALI Medium.
Get Started with Contract Assay Services