Rat Recombinant IL-3 beta
Overview
Interleukin 3 (IL-3) is a species-specific pleiotropic cytokine that promotes the survival and proliferation of pluripotent hematopoietic stem cells and lineage-committed progenitor cells and their differentiation into mature cells of most lineages, including mast cells, basophils, neutrophils, eosinophils, macrophages, dendritic cells, erythrocytes, and megakaryocytes (Fung et al.; Metcalf et al.; Broughton et al.). IL-3 is produced by activated T cells, and has a physiological role in inflammation and allergies by promoting the secretion of inflammatory mediators such as histamine, IL-4, and IL-6 by mast cells, basophils, and eosinophils. The IL-3 receptor consists of a unique alpha subunit (CD123) and two beta subunits, one specific for IL-3 (βIL-3), the other shared with the receptors for IL-5 and GM-CSF (beta common chain, βc, or CD131). IL-3 binding to heterodimeric receptors containing the alpha subunit and one of either beta subunits activates JAK/STAT, MAPK, and PI3K signaling pathways (Scott & Begley).
Alternative Names
HCGF, Mast cell growth factor, MCGF, Multi-CSF, P-cell stimulation factor
Cell Type
Hematopoietic Stem and Progenitor Cells, Pluripotent Stem Cells
Area of Interest
Stem Cell Biology
Molecular Weight
16.3 kDa
Product Applications
This product is designed for use in the following research area(s) as part of the highlighted workflow stage(s). Explore these workflows to learn more about the other products we offer to support each research area.
Data and Publications
Data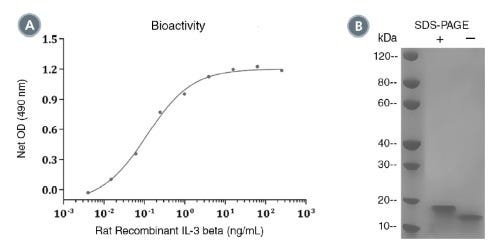 (A) The biological activity of Rat Recombinant IL-3 beta was tested by its ability to promote proliferation of NFS-60 cells. Cell proliferation was measured using a fluorometric assay method. The EC50 is defined as the effective concentration of the growth factor at which cell proliferation is at 50% of maximum. The EC50 in the example above is less than 5 ng/mL. (B) 5 μg of Rat Recombinant IL-3 beta was resolved with SDS-PAGE under reducing (+) and non-reducing (-) conditions and visualized by Coomassie Blue staining. Rat Recombinant IL-3 beta has a predicted molecular mass of 16.3 kDa.
Quality Statement:

PRODUCTS ARE FOR RESEARCH USE ONLY AND NOT INTENDED FOR HUMAN OR ANIMAL DIAGNOSTIC OR THERAPEUTIC USES UNLESS OTHERWISE STATED. FOR ADDITIONAL INFORMATION ON QUALITY AT STEMCELL, REFER TO WWW.STEMCELL.COM/COMPLIANCE.