Human Cord Blood CD34+ Cells, Frozen
Primary human cells, frozen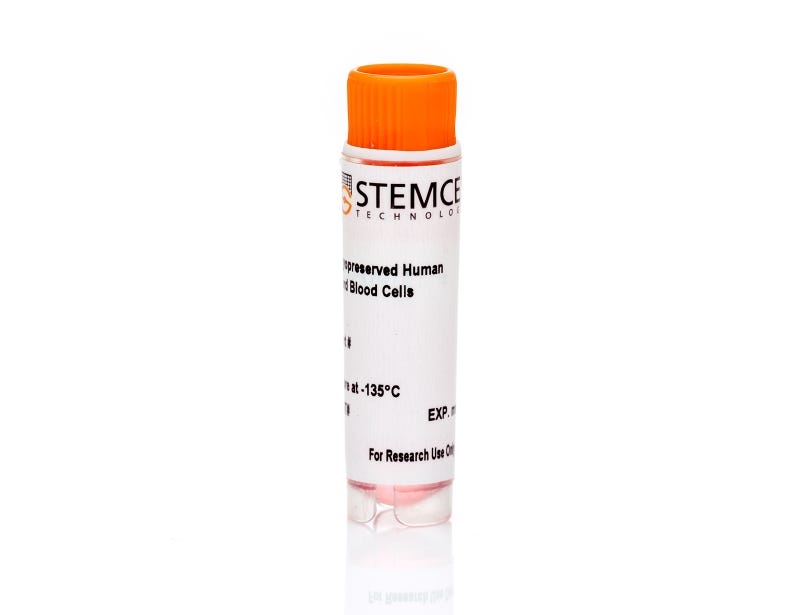 Please note that due to the high demand of this product, you may experience longer than usual wait times for order fulfillment. Please contact us for expected delivery estimates.
Request Pricing
Thank you for your interest in this product. Please provide us with your contact information and your local representative will contact you with a customized quote. Where appropriate, they can also assist you with a(n):
Estimated delivery time for your area
Product sample or exclusive offer
In-lab demonstration
By submitting this form, you are providing your consent to STEMCELL Technologies Canada Inc. and its subsidiaries and affiliates ("STEMCELL") to collect and use your information, and send you newsletters and emails in accordance with our
privacy policy
. Please
contact us
with any questions that you may have. You can unsubscribe or change your
email preferences
at any time.
Please note that due to the high demand of this product, you may experience longer than usual wait times for order fulfillment. Please contact us for expected delivery estimates.
Overview
Protocols and Documentation
Find supporting information and directions for use in the Product Information Sheet or explore additional protocols below.
Applications
This product is designed for use in the following research area(s) as part of the highlighted workflow stage(s). Explore these workflows to learn more about the other products we offer to support each research area.
Resources and Publications
Educational Materials
(7)
Publications
(16)
Efficacy and safety of a clinically relevant foamy vector design in human hematopoietic repopulating cells.
The journal of gene medicine 2018 JUL
Abstract
BACKGROUND Previous studies have shown that foamy viral (FV) vectors are a promising alternative to gammaretroviral and lentiviral vectors and also that insulators can improve FV vector safety. However, in a previous analysis of insulator effects on FV vector safety, strong viral promoters were used to elicit genotoxic events. In the present study, we developed and analyzed the efficacy and safety of a high-titer, clinically relevant FV vector driven by the housekeeping promoter elongation factor-1alpha$ and insulated with an enhancer blocking A1 insulator (FV-EGW-A1). METHODS Human CD34+ cord blood cells were exposed to an enhanced green fluorescent protein expressing vector, FV-EGW-A1, at a multiplicity of infection of 10 and then maintained in vitro or transplanted into immunodeficient mice. Flow cytometry was used to measure engraftment and marking in vivo. FV vector integration sites were analyzed to assess safety. RESULTS FV-EGW-A1 resulted in high-marking, multilineage engraftment of human repopulating cells with no evidence of silencing. Engraftment was highly polyclonal with no clonal dominance and a promising safety profile based on integration site analysis. CONCLUSIONS An FV vector with an elongation factor-1alpha$ promoter and an A1 insulator is a promising vector design for use in the clinic.
DPP8/DPP9 inhibitor-induced pyroptosis for treatment of acute myeloid leukemia.
Nature medicine 2018 AUG
Abstract
Small-molecule inhibitors of the serine dipeptidases DPP8 and DPP9 (DPP8/9) induce a lytic form of cell death called pyroptosis in mouse and human monocytes and macrophages1,2. In mouse myeloid cells, Dpp8/9 inhibition activates the inflammasome sensor Nlrp1b, which in turn activates pro-caspase-1 to mediate cell death3, but the mechanism of DPP8/9 inhibitor-induced pyroptosis in human myeloid cells is not yet known. Here we show that the CARD-containing protein CARD8 mediates DPP8/9 inhibitor-induced pro-caspase-1-dependent pyroptosis in human myeloid cells. We further show that DPP8/9 inhibitors induce pyroptosis in the majority of human acute myeloid leukemia (AML) cell lines and primary AML samples, but not in cells from many other lineages, and that these inhibitors inhibit human AML progression in mouse models. Overall, this work identifies an activator of CARD8 in human cells and indicates that its activation by small-molecule DPP8/9 inhibitors represents a new potential therapeutic strategy for AML.
A neutralizing anti-G-CSFR antibody blocks G-CSF-induced neutrophilia without inducing neutropenia in nonhuman primates.
Journal of leukocyte biology 2017 MAY
Abstract
Neutrophils are the most abundant WBCs and have an essential role in the clearance of pathogens. Tight regulation of neutrophil numbers and their recruitment to sites of inflammation is critical in maintaining a balanced immune response. In various inflammatory conditions, such as rheumatoid arthritis, vasculitis, cystic fibrosis, and inflammatory bowel disease, increased serum G-CSF correlates with neutrophilia and enhanced neutrophil infiltration into inflamed tissues. We describe a fully human therapeutic anti-G-CSFR antibody (CSL324) that is safe and well tolerated when administered via i.v. infusion to cynomolgus macaques. CSL324 was effective in controlling G-CSF-mediated neutrophilia when administered either before or after G-CSF. A single ascending-dose study showed CSL324 did not alter steady-state neutrophil numbers, even at doses sufficient to completely prevent G-CSF-mediated neutrophilia. Weekly infusions of CSL324 (%10 mg/kg) for 3 wk completely neutralized G-CSF-mediated pSTAT3 phosphorylation without neutropenia. Moreover, repeat dosing up to 100 mg/kg for 12 wk did not result in neutropenia at any point, including the 12-wk follow-up after the last infusion. In addition, CSL324 had no observable effect on basic neutrophil functions, such as phagocytosis and oxidative burst. These data suggest that targeting G-CSFR may provide a safe and effective means of controlling G-CSF-mediated neutrophilia as observed in various inflammatory diseases.
Quality Statement:

PRODUCTS ARE FOR RESEARCH USE ONLY AND NOT INTENDED FOR HUMAN OR ANIMAL DIAGNOSTIC OR THERAPEUTIC USES UNLESS OTHERWISE STATED. FOR ADDITIONAL INFORMATION ON QUALITY AT STEMCELL, REFER TO WWW.STEMCELL.COM/COMPLIANCE.