Overview
Interleukin 22 (IL-22) is a class 2 α-helical cytokine that signals through the class 2 cytokine receptor and activates the JAK/STAT pathway. IL-22 is secreted by Th1, Th2, Tc22, and γδ T cells, dendritic, mast and NK cells. It stimulates expression of antimicrobial peptides from epithelial cells, thus hindering bacterial infections. Depending on the interactions with other cytokines, IL-22 can either promote inflammation or prevent tissue destruction by regulating host defense and tissue homeostasis at barrier surfaces (Sonnenberg et al.).
Alternative Names:
IL-TIF, Interleukin-22
Cell Type:
Intestinal Cells; Hepatic Cells; Airway Cells; Keratinocytes; T Cells; T Cells, CD4+; T Cells, CD8+
Area of Interest:
Immunology; Epithelial Cell Biology
Molecular Weight:
16.8 kDa
Scientific Resources
Product Documentation
Document Type
Product Name
Catalog #
Lot #
Language
Educational Materials
(3)
Brochure Tools For Your Immunology Research
Wallchart Human Immune Cytokines
Data and Publications
Data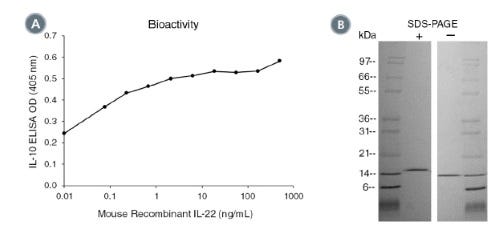 (A) The biological activity of Mouse Recombinant IL-22 was tested by its ability to produce IL-10 in COLO 205 cells. IL-10 secretion was measured after 4 days of culture using a fluorometric assay method. The EC50 is defined as the effective concentration of the growth factor at which IL-10 production is at 50% of maximum. The EDC50 in the above example is 0.15 - 0.23 ng/mL.
(B) 1 μg of Mouse Recombinant L-22 was resolved with SDS-PAGE under reducing (+) and non-reducing (-) conditions and visualized by Coomassie Blue staining. Mouse Recombinant IL-22 has a predicted molecular mass of 16.8 kDa.
STEMCELL TECHNOLOGIES INC.'S QUALITY MANAGEMENT SYSTEM IS CERTIFIED TO ISO 13485. PRODUCTS ARE FOR RESEARCH USE ONLY AND NOT INTENDED FOR HUMAN OR ANIMAL DIAGNOSTIC OR THERAPEUTIC USES UNLESS OTHERWISE STATED.