Overview
Interleukin 21 (IL-21) is a pleiotropic cytokine that is composed of four α-helical bundles and primarily produced by natural killer T (NKT) cells, T follicular helper (Tfh) cells, and Th17 cells (Spolski & Leonard 2008). IL-21 signals via receptor heterodimerization of IL-21 receptor and IL-2 receptor subunit gamma (IL-2RG or CD132), both of which have a common gamma-chain subunit and activate the JAK/STAT, MAPK, and PI3K pathways (Parrish-Novak et al.; Ozaki et al. 2000; Spolski & Leonard 2014). IL-21 has been shown to have a critical role in regulating immunoglobulin production and differentiation of the pro-inflammatory Th17 population of cells (Ozaki et al. 2002; Nurieva et al.). Additionally, IL-21 specifically sustains CD8+ T cell effector activity and provides a mechanism of CD4+ T cell help during chronic viral infection (Elsaesser et al.). IL-21 signaling was also found critical for the development of type 1 diabetes in non-obese diabetic (NOD) mice (Sutherland et al.) and control of T cell autoimmunity by regulatory B cells (Yoshizaki et al.).
Alternative Names:
Interleukin-21, Za11
Cell Type:
Mesenchymal Stem and Progenitor Cells; NK Cells; T Cells; T Cells, CD4+; T Cells, CD8+; T Cells, Other Subsets
Area of Interest:
Immunology; Stem Cell Biology
Molecular Weight:
15.1 kDa
Scientific Resources
Product Documentation
Document Type
Product Name
Catalog #
Lot #
Language
78116, 78116.1, 78116.2
All
78116, 78116.1, 78116.2
All
Product Applications
This product is designed for use in the following research area(s) as part of the highlighted workflow stage(s). Explore these workflows to learn more about the other products we offer to support each research area.
Research Area
Workflow Stages for
Data and Publications
Data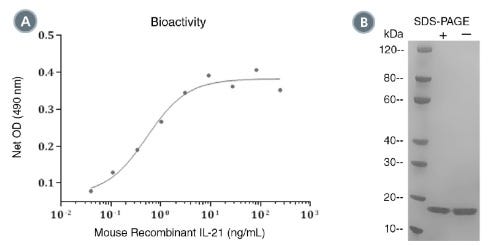 (A) The biological activity of Mouse Recombinant IL-21 was tested by its ability to promote the proliferation of human ANBL-6 cells. Cell proliferation was measured using a fluorometric assay method. The EC50 is defined as the effective concentration of the growth factor at which cell proliferation is at 50% of maximum. The EC50 in the above example is less than 1 ng/mL. (B) 2 μg of Mouse Recombinant IL-21 was resolved with SDS-PAGE under reducing (+) and non-reducing (-) conditions and visualized by Coomassie Blue staining.
STEMCELL TECHNOLOGIES INC.'S QUALITY MANAGEMENT SYSTEM IS CERTIFIED TO ISO 13485. PRODUCTS ARE FOR RESEARCH USE ONLY AND NOT INTENDED FOR HUMAN OR ANIMAL DIAGNOSTIC OR THERAPEUTIC USES UNLESS OTHERWISE STATED.