Overview
Interleukin 17A (IL-17A) is the founding member of the family of cytokines that includes Interleukin 17B through Interleukin 17F. It is a potent proinflammatory cytokine that plays a key role in defense against pathogens. IL-17A and IL-17F signal as homodimers or heterodimers through the same receptor, and activate NF-kB, MAPK, and C/EBP pathways (Gaffen). IL-17A receptor is expressed on a variety of cell types, including hematopoietic cell compartments. IL-17A is produced by T helper 17 cells, CD8+ T cells, γδ T cells, natural killer T cells, B cells, neutrophils, innate lymphoid cells and mesenchymal stromal cells (MSCs; Zenobia & Hajishengallis; Mojsilovic et al.). IL-17A receptor is expressed at particularly high levels on stromal cells, including MSCs. IL-17A increases the frequency and the average size of colony-forming units-fibroblast derived from bone marrow, as well as the proliferation of bone marrow-derived MSCs. IL-17A suppresses osteogenic differentiation and bone formation of bone marrow-derived MSCs. The action of IL-17A on hematopoiesis is deeply reliant on the microenvironment and the induction of other regulators. In healthy mouse bone marrow, IL-17A stimulates myeloid and early stage erythroid progenitor cells but inhibits late stage erythroid progenitor cells (Mojsilovic et al.).
Alternative Names:
CTLA-8, IL-17, Interleukin-17, Interleukin-17A
Cell Type:
Lymphocytes; B Cells; T Cells; T Cells, CD4+; T Cells, CD8+
Area of Interest:
Immunology
Molecular Weight:
30.2 kDa
Scientific Resources
Product Documentation
Document Type
Product Name
Catalog #
Lot #
Language
Educational Materials
(3)
Brochure Tools For Your Immunology Research
Wallchart Human Immune Cytokines
Data and Publications
Data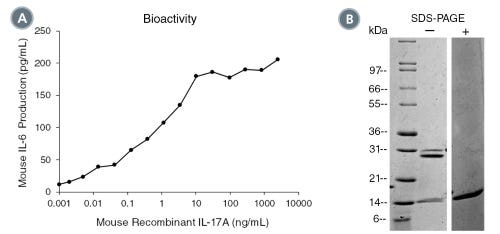 (A) The biological activity of Mouse Recombinant IL-17A was tested by its ability to produce IL-6 in NIH 3T3 cells. Production of mouse IL6 was measured after 48 hours of culture. The EC50 is defined as the effective concentration of the growth factor at which IL-6 production is at 50% of maximum. The EC50 in the above example is 0.3 - 1.5 ng/mL.
(B) 1 ug of Mouse Recombinant IL-17A was resolved with SDS-PAGE under reducing (+) and non-reducing (-) conditions and visualized by Coomassie Blue staining. Mouse Recombinant IL-17A is a homodimer of 15.1 kDa subunits with a predicted total molecular mass of 30.2 kDa.
STEMCELL TECHNOLOGIES INC.'S QUALITY MANAGEMENT SYSTEM IS CERTIFIED TO ISO 13485. PRODUCTS ARE FOR RESEARCH USE ONLY AND NOT INTENDED FOR HUMAN OR ANIMAL DIAGNOSTIC OR THERAPEUTIC USES UNLESS OTHERWISE STATED.