Overview
Interleukin 10 (IL-10) is the founding member of the IL-10 family of class II cytokines. All of the IL-10 cytokine family members have a four-helix bundle consisting of α-helical folds. Upon binding to its receptor, IL-10 activates signaling through JAK1 and STAT3. It is produced by dendritic cells, macrophages, and CD4+ T regulatory cells, as well as mast cells, NK cells, neutrophils, and regulatory B cells, under specific stimulating conditions (Saraiva & O'Garra). IL-10 can inhibit the activation of certain immune cells while it promotes the function of B cells, and facilitate healing process. Specifically, this cytokine is important for the function of T regulatory cells as it is a potent suppressor of effector T cell proliferation and cytokine production. Also, IL-10 produced by a subset of macrophages inhibits activation and production of pro-inflammatory cytokines by neighboring macrophages, thus allowing a level of self-regulation. IL-10 enhances B cell proliferation, immunoglobulin secretion, and class II MHC expression (Ouyang et al.).
Alternative Names:
B-TCGF, CSIF, Cytokine synthesis inhibitory factor, Interleukin-10, TGIF
Cell Type:
Dendritic Cells; Hematopoietic Stem and Progenitor Cells; Myeloid Cells; Neurons; T Cells; T Cells, CD4+; T Cells, Regulatory
Area of Interest:
Immunology; Neuroscience; Stem Cell Biology
Molecular Weight:
21 - 23 kDa
Scientific Resources
Product Documentation
Document Type
Product Name
Catalog #
Lot #
Language
Educational Materials
(4)
Product Applications
This product is designed for use in the following research area(s) as part of the highlighted workflow stage(s). Explore these workflows to learn more about the other products we offer to support each research area.
Research Area
Workflow Stages for
Data and Publications
Data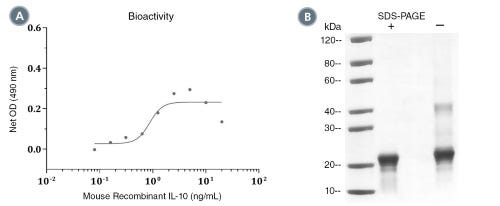 (A) The biological activity of Mouse Recombinant IL-10 was tested by its ability to promote the proliferation of MC/9 cells. Cell proliferation was measured using a fluorometric assay method. The EC50 is defined as the effective concentration of the growth factor at which cell proliferation is at 50% of maximum. The EC50 in the example above is less than 0.2 ng/mL. (B) 2 μg of Mouse Recombinant IL-10 was resolved with SDS-PAGE under reducing (+) and non-reducing (-) conditions and visualized by Coomassie Blue staining. Mouse Recombinant IL-10 has a predicted molecular mass of 21 - 23 kDa.
STEMCELL TECHNOLOGIES INC.'S QUALITY MANAGEMENT SYSTEM IS CERTIFIED TO ISO 13485. PRODUCTS ARE FOR RESEARCH USE ONLY AND NOT INTENDED FOR HUMAN OR ANIMAL DIAGNOSTIC OR THERAPEUTIC USES UNLESS OTHERWISE STATED.