Overview
Vascular endothelial growth factor receptor 2/kinase insert domain receptor (VEGF R2/KDR) belongs to the class III subfamily of receptor tyrosine kinases. It is expressed on endothelial cells, endothelial progenitor cells, pancreatic duct cells, retinal progenitor cells, and megakaryocytes (Youssoufian et al.). KDR binds VEGF, which results in activation of Raf/MEK/ERK and PI3K/AKT pathways, which in turn regulate vasculogenesis and angiogenesis (Ferrara et al., Youssoufian et al.). Studies in mouse models demonstrate that activation of KDR on hepatic endothelial cells stimulates expression of WNT2 and hepatocyte growth factor, which leads to liver regeneration (Rafii et al.). Hematopoietic regeneration and thrombopoiesis after cancer treatment is impaired in the absence of KDR in endothelial cells (Hooper et al.). KDR signaling is also implicated in lung regeneration (Rafii et al.)
Alternative Names:
CD309, EC 2.7.10, Fetal liver kinase 1, Flk1, Flk-1, FLK1 tyrosine kinase growth factor receptor, Protein-tyrosine kinase receptor flk-1, Soluble VEGFR2, VEGFR, VEGFR2, VEGFR-2
Cell Type:
Airway Cells; Angiogenic Cells; Endoderm, PSC-Derived; Endothelial Cells; Epithelial Cells; Hepatic Cells; Keratinocytes
Area of Interest:
Angiogenic Cell Research; Endothelial Cell Biology; Epithelial Cell Biology
Molecular Weight:
109.6 kDa
Scientific Resources
Product Documentation
Document Type
Product Name
Catalog #
Lot #
Language
Educational Materials
(10)
Product Applications
This product is designed for use in the following research area(s) as part of the highlighted workflow stage(s). Explore these workflows to learn more about the other products we offer to support each research area.
Research Area
Workflow Stages for
Data and Publications
Data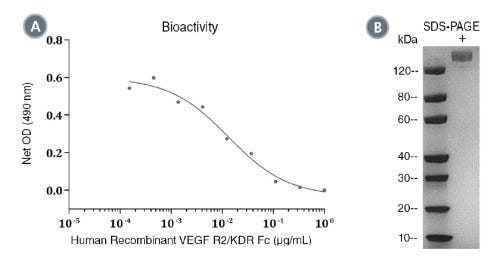 (A) The biological activity of Human Recombinant VEGF R2/KDR Fc was tested by the ability to inhibit VEGF-dependent HUVEC proliferation. Inhibition of cell proliferation was measured using a fluorometric assay method. The EC50 is defined as the effective concentration of the growth factor at which cell proliferation inhibition is at 50% of maximum. The EC50 in the example above is less than 0.03 μg/mL. (B) Human Recombinant VEGF R2/KDR Fc was resolved with SDS-PAGE under reducing (+) conditions and visualized by Coomassie Blue staining.
STEMCELL TECHNOLOGIES INC.'S QUALITY MANAGEMENT SYSTEM IS CERTIFIED TO ISO 13485. PRODUCTS ARE FOR RESEARCH USE ONLY AND NOT INTENDED FOR HUMAN OR ANIMAL DIAGNOSTIC OR THERAPEUTIC USES UNLESS OTHERWISE STATED.