Human Recombinant Persephin
Overview
Persephin is a neurotrophic factor that belongs to the glial cell line-derived neurotrophic factor (GDNF) family. Persephin shares a large degree of structural similarity to GDNF, artemin, and neurturin, and has overall neuroprotective activity. Persephin signals through GRFα4 (glycosylphosphatidylinositol (GPI)-linked GDNF receptor family member) which signals through the receptor tyrosine kinase RET. Unlike GDNF and neurturin, persephin only promotes the growth and survival of central dopaminergic and motor neurons, but not peripheral neurons (Milbrandt et al.). In vitro, persephin only promotes survival of neurons that co-express GPI-linked GRFα4 and RET (Enokido et al.; Lindahl et al.). Mice lacking persephin showed increased cell death after cerebral ischemia, however administration of persephin before ischemia dramatically reduced neuronal cell death (Tomac et al.).
Alternative Names
PSP, PSPN
Area of Interest
Neuroscience
Molecular Weight
10.4 kDa monomer; 20.8 kDa dimer
Product Applications
This product is designed for use in the following research area(s) as part of the highlighted workflow stage(s). Explore these workflows to learn more about the other products we offer to support each research area.
Data and Publications
Data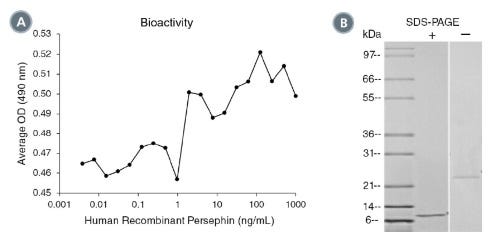 (A) The biological activity of Human Recombinant Persephin was tested by its ability to promote the proliferation of TT cells. Cell proliferation was measured using a fluorometric assay method. The EC50 is defined as the effective concentration of the neurotrophic factor at which cell proliferation is at 50% of maximum. The EC50 in the example above is 2.27 ng/mL. (B) 1 μg of Human Recombinant Persephin was resolved with SDS-PAGE under reducing (+) and non-reducing (-) conditions and visualized by Coomassie Blue staining. Human Recombinant Persephin has a predicted molecular mass of 20.8 kDa (10.4 kDa per monomer).
Quality Statement:

PRODUCTS ARE FOR RESEARCH USE ONLY AND NOT INTENDED FOR HUMAN OR ANIMAL DIAGNOSTIC OR THERAPEUTIC USES UNLESS OTHERWISE STATED. FOR ADDITIONAL INFORMATION ON QUALITY AT STEMCELL, REFER TO WWW.STEMCELL.COM/COMPLIANCE.