Overview
Insulin-like growth factor-binding protein 4 (IGFBP-4) inhibits the actions of IGF-I and IGF-II. The distribution of IGFBP-4 in tissues is dependent on its glycosylation state, however it preferentially targets connective tissue (Firth & Baxter; Qin et al.). IGFBP-4 is also produced in liver, adrenal glands, Leydig cells, developing embryos, spinal cord, and thymic cortex. IGFBP-4 inhibits WNT/β-catenin signaling, which downregulates prostate cancer proliferation (Zhu et al.). In vitro studies suggest that IGFBP-4 inhibits proliferation of neuroblastoma and glioma, while promoting bone loss in osteosarcoma and multiple myeloma (Durai et al.).
Alternative Names:
Colon cancer cell growth factor, HT29-IGF-BP, IBP-4, Insulin-like growth factor binding protein 4
Cell Type:
Mesenchymal Stem and Progenitor Cells
Area of Interest:
Stem Cell Biology
Molecular Weight:
26.8 kDa
Scientific Resources
Product Documentation
Document Type
Product Name
Catalog #
Lot #
Language
Educational Materials
(6)
Data and Publications
Data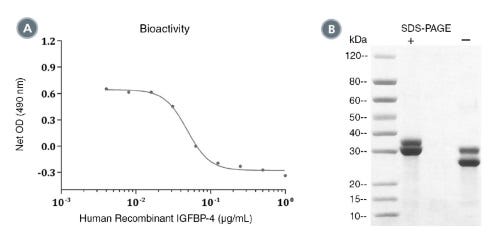 (A) The biological activity of Human Recombinant IGFBP-4 was tested by its ability to inhibit IGF-II induced proliferation of FDC-P1 cells.Cell proliferation was measured using a fluorometric assay method. The EC50 is defined as the effective concentration of the growth factor at which cell proliferation is at 50% of maximum. The EC50 in the example above is less than 0.05 μg/mL. (B) 5 μg of Human Recombinant IGFBP-4 was resolved with SDS-PAGE under reducing (+) and non-reducing (-) conditions and visualized by Coomassie Blue staining. Human Recmbinant IGFBP-4 has a predicted molecular mass of 26.8 kDa.
STEMCELL TECHNOLOGIES INC.'S QUALITY MANAGEMENT SYSTEM IS CERTIFIED TO ISO 13485. PRODUCTS ARE FOR RESEARCH USE ONLY AND NOT INTENDED FOR HUMAN OR ANIMAL DIAGNOSTIC OR THERAPEUTIC USES UNLESS OTHERWISE STATED.