Human Recombinant IFN-gamma, ACF
Interferon-gamma, animal component-free
Overview
Interferon-gamma (IFN-γ), also known as type II interferon, is produced by T and NK cells, and in smaller amounts by dendritic cells and macrophages. IFN-γ is controlled by cytokines such as IL-12 and IL-18 secreted in response to infection (Schroder et al.). IFN-γ binds to a receptor complex and initiates signal transduction via the JAK/STAT pathway; this culminates in the transcription and activation of many genes that control a diverse array of immunological functions (de Weerd and Nguyen; Krause et al.). IFN-γ stimulates the antimicrobial and anti-tumor activity of macrophages, NK cells, and neutrophils (Billiau & Matthys) by promoting the activation of microbial effector functions such as production of reactive oxygen species, NO intermediates, and complement (Schroder et al.). IFN-γ enhances MHC class I and II expression in dendritic cells and mononuclear phagocytes, as well as the production of IL-12 by dendritic cells. In B cells, IFN-γ stimulates survival and growth in both mouse and human cells, and redirects B cells from proliferation towards differentiation. IFN-γ favors the development of Th1 vs Th2 cells and stimulates monocyte differentiation and function (Schroder et al.). This product is animal component-free.
Alternative Names
Interferon gamma, Type II interferon
Cell Type
B Cells, Hematopoietic Stem and Progenitor Cells, Intestinal Cells, Mesenchymal Stem and Progenitor Cells, T Cells
Area of Interest
Epithelial Cell Biology, Immunology, Stem Cell Biology
Molecular Weight
16.9 kDa
Scientific Resources
Educational Materials
(9)
Product Applications
This product is designed for use in the following research area(s) as part of the highlighted workflow stage(s). Explore these workflows to learn more about the other products we offer to support each research area.
Data and Publications
Data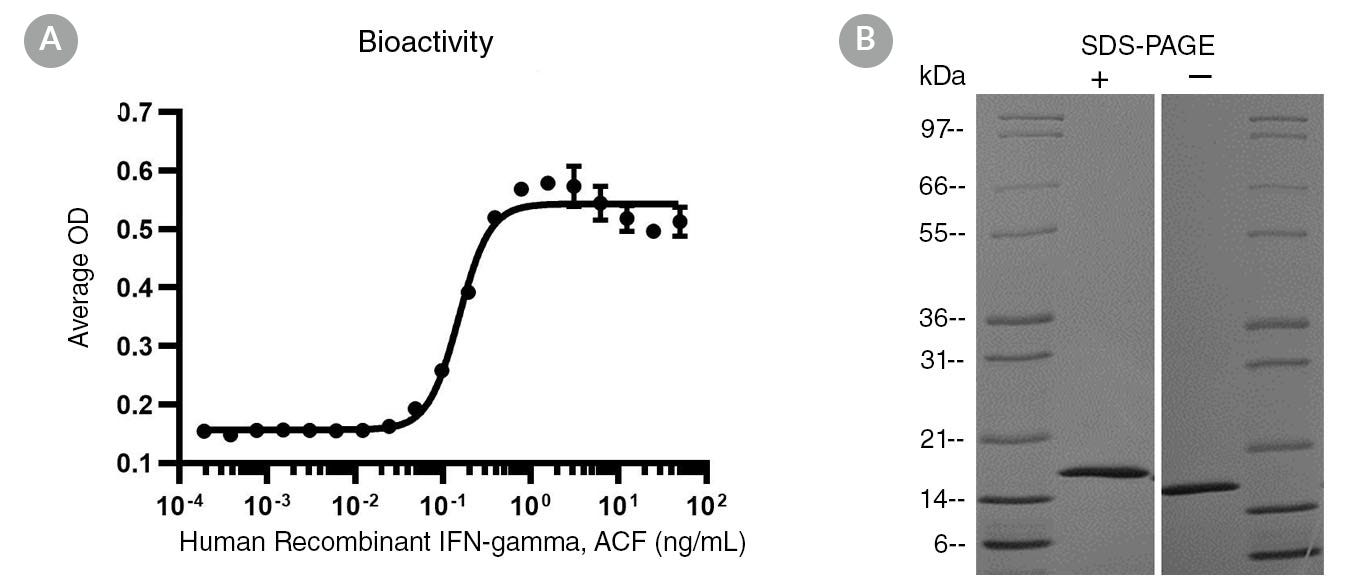 (A) The biological activity of Human Recombinant IFN-gamma, ACF was tested by its ability to induce alkaline phosphatase activity in HEK-Blue™ IFN-gamma-responsive indicator cells. The EC50 is defined as the effective concentration of the ligand at which alkaline phosphatase activity is at 50% of maximum. The EC50 in the above example is 0.153 ng/ml.
(B) 1 μg of Human Recombinant IFN-gamma, ACF was resolved with SDS-PAGE under reducing (+) and non-reducing (-) conditions and visualized by Coomassie Blue staining. Human Recombinant IFN-gamma, ACF has a predicted molecular mass of 16.9 kDa.
Quality Statement:

PRODUCTS ARE FOR RESEARCH USE ONLY AND NOT INTENDED FOR HUMAN OR ANIMAL DIAGNOSTIC OR THERAPEUTIC USES UNLESS OTHERWISE STATED. FOR ADDITIONAL INFORMATION ON QUALITY AT STEMCELL, REFER TO WWW.STEMCELL.COM/COMPLIANCE.