MegaCult™-C Staining Kit for CFU-Mk
Staining kit for human CFU-Mk assays
Overview
MegaCult™-C Staining Kit for CFU-Mk contains all the reagents needed to stain fixed and dehydrated CFU-Mk colonies cultured in MegaCult™-C collagen-based medium. Megakaryocytes and platelets expressing the glycoprotein IIb/IIIa are stained with anti-human CD41 antibody and an alkaline phosphatase detection system. The kit is also suitable for detection of bipotential erythroid-megakaryocyte progenitor cells (BFU-E/Mk).
Components
MegaCult™-C Primary Antibody, 360 µL (Catalog #04803)
MegaCult™-C Control Antibody, 100 µL (Catalog #04804)
MegaCult™-C Human Serum, 6 mL (Catalog #04807)
MegaCult™-C Alkaline Phosphatase Substrate Tablets, 1 pack (Catalog #04809)
MegaCult™-C Avidin Alkaline Phosphatase Conjugate, 200 µL (Catalog #04905)
MegaCult™-C Biotin-Conjugated Goat Anti-Mouse IgG, 125 µL (Catalog #04906)
MegaCult™-C Evans Blue Stain, 5 mL (Catalog #04913)
MegaCult™-C 10% BSA, 6 mL (Catalog #04915)
Cell Type
Hematopoietic Stem and Progenitor Cells
Application
Colony Assay, Immunocytochemistry
Area of Interest
Stem Cell Biology
Scientific Resources
Educational Materials
(2)
Frequently Asked Question
Why is the MegaCult™-C formulation serum free?
MegaCult™-C is formulated without FBS to avoid inhibition of CFU-Mk growth by TGF beta and Platelet Factor-4, which are often present in the serum.
Why use semi-solid media?
Semi-solid media (such as methylcellulose-based or collagen-based) allow the clonal progeny of a single progenitor cell to stay together so you can recognize distinct colonies.
Product Applications
This product is designed for use in the following research area(s) as part of the highlighted workflow stage(s). Explore these workflows to learn more about the other products we offer to support each research area.
Data and Publications
Data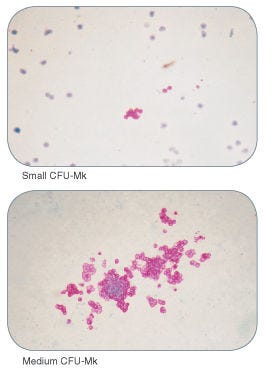 Figure 1. Examples of Colonies Derived from Human Megakaryocyte Progenitors
Quality Statement:

PRODUCTS ARE FOR RESEARCH USE ONLY AND NOT INTENDED FOR HUMAN OR ANIMAL DIAGNOSTIC OR THERAPEUTIC USES UNLESS OTHERWISE STATED. FOR ADDITIONAL INFORMATION ON QUALITY AT STEMCELL, REFER TO WWW.STEMCELL.COM/COMPLIANCE.