Anti-Human Tight Junction Protein 1 (ZO-1) Antibody, Polyclonal
Rabbit polyclonal IgG antibody against human tight junction protein 1 (ZO-1)
Overview
The anti-human tight junction protein 1 (TJP1) antibody reacts with human TJP1, also known as the zona occludens-1 (ZO-1) protein. TJP1 is a 220 kDa membrane-associated signaling protein that belongs to the family of membrane-associated guanylate kinase (MAGUK) homologs. The TJP1 protein contains three postsynaptic density, disc-large, ZO-1 domains (PDZ), a single Src Homology-3 domain (SH3), and a catalytically inactive guanylate kinase (GK) domain. TJP1 shares ~65% overall similarity with ZO-2 and ZO-3 proteins, with the highest levels of similarity in the MAGUK and acid domains. The TJP1 proteins, along with other proteins such as occludin and claudins, provide anchorage between strand proteins and the actin cytoskeleton. TJP1 dysfunction has been associated with cancer metastasis due to the loss of tight junction barrier function.
Target Antigen
Tight Junction Protein 1
Alternative Names
Zonula Occludens-1, ZO-1
Cell Type
Airway Cells, Epithelial Cells
Application
Immunocytochemistry, Immunofluorescence, Immunohistochemistry, Immunoprecipitation, Western Blotting
Area of Interest
Disease Modeling, Epithelial Cell Biology, Respiratory Research
Scientific Resources
Educational Materials
(6)
Product Applications
This product is designed for use in the following research area(s) as part of the highlighted workflow stage(s). Explore these workflows to learn more about the other products we offer to support each research area.
Data and Publications
Data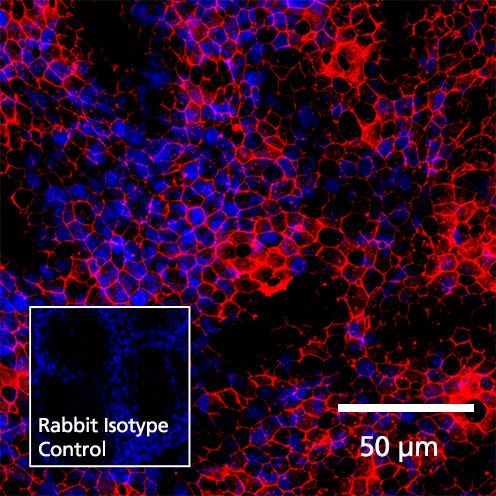 Figure 1. Anti-Human Tight Junction Protein 1 (ZO-1) Antibody is Suitable for Staining Human Bronchial Epithelial Cells
Human bronchial epithelial cells (HBECs) cultured in PneumaCult™-ALI Medium were fixed, permeabilized, and labeled with Anti-Human Tight Junction Protein 1 (ZO-1) Antibody, Polyclonal, followed by goat anti-rabbit IgG (H+L), Alexa Fluor® 647. Nuclei were counter-stained with DAPI (blue). Inset shows cells labeled with rabbit IgG isotype control antibody, followed by goat anti-rabbit IgG (H+L), Alexa Fluor® 647 (with DAPI staining).
Quality Statement:

PRODUCTS ARE FOR RESEARCH USE ONLY AND NOT INTENDED FOR HUMAN OR ANIMAL DIAGNOSTIC OR THERAPEUTIC USES UNLESS OTHERWISE STATED. FOR ADDITIONAL INFORMATION ON QUALITY AT STEMCELL, REFER TO WWW.STEMCELL.COM/COMPLIANCE.