Overview
The 2B7 antibody reacts with CD235a (Glycophorin A), an ~10 kDa type I sialoglycoprotein present in the cell membrane of erythrocytes and erythroid precursors as a homodimer. Glycophorin A bears the antigenic determinants for the MN and Ss blood groups and has been proposed to provide a large mucin-like surface to erythrocytes that acts to minimize aggregation in circulation. Glycophorin A is first detectable on morphologically recognizable erythroid precursors just after the colony-forming unit erythroid (CFU-E) stage, and reaches its maximal expression at the late normoblast stage. Anti-glycophorin is useful in combination with anti-transferrin receptor (CD71) to identify distinct stages of erythroid differentiation since CD71 expression precedes Glycophorin A expression, but is lost during maturation of normoblasts into mature red blood cells.
Subtype:
Primary Antibodies
Target Antigen:
CD235 (Glycophorin)
Alternative Names:
Glycophorin A, GYPA, MN sialoglycoprotein, MNS blood group, PAS-2, Sialoglycoprotein alpha
Cell Type:
Erythroid Cells; Red Blood Cells
Application:
Flow Cytometry; Cell Isolation
Area of Interest:
Immunology
Scientific Resources
Product Documentation
Document Type
Product Name
Catalog #
Lot #
Language
Product Applications
This product is designed for use in the following research area(s) as part of the highlighted workflow stage(s). Explore these workflows to learn more about the other products we offer to support each research area.
Research Area
Workflow Stages for
Data and Publications
Data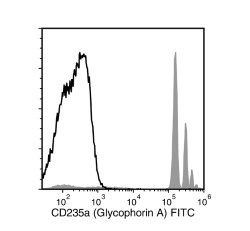 Flow cytometry analysis of human whole blood labeled with Anti-Human CD235a (Glycophorin A) Antibody, Clone 2B7, FITC (filled histogram) or Mouse IgG1, kappa Isotype Control Antibody, Clone MOPC-21, FITC (Catalog #60070FI; solid line histogram).
STEMCELL TECHNOLOGIES INC.'S QUALITY MANAGEMENT SYSTEM IS CERTIFIED TO ISO 13485. PRODUCTS ARE FOR RESEARCH USE ONLY AND NOT INTENDED FOR HUMAN OR ANIMAL DIAGNOSTIC OR THERAPEUTIC USES UNLESS OTHERWISE STATED.