Overview
Vascular endothelial growth factor D (VEGF-D) is a member of the VEGF/platelet-derived growth factor (PDGF) family of proteins. VEGF-D is a potent angiogenic factor and promotes lymphangiogenesis, endothelial cell growth and survival, and can affect blood vessel permeability. VEGF-D is expressed in the lung, heart, small intestine, fetal lung, and at lower levels in the pancreas, colon, and skeletal muscle (Otrock et al.; Roy et al.; Stacker et al.; Yamada et al.). VEGF-D is a ligand for VEGF receptors 2 (Flk1) and 3 (Flt4) (Baldwin et al.). VEFGR-3 is highly expressed in lymphatic endothelial cells and is essential for their growth and differentiation (Otrock et al.; Roy et al.). Binding of VEGF-D to neuropilins contributes to VEGFR-3 signaling during lymphangiogenesis, whereas binding to integrin α9β1 promotes endothelial cell adhesion and migration (Roy et al.; Otrock et al.). During embryogenesis, VEGF-D also plays a role in the formation of the venous and lymphatic systems.
Alternative Names:
c-Fos induced growth factor, FIGF, Vascular endothelial growth factor D
Cell Type:
Endothelial Cells
Area of Interest:
Endothelial Cell Biology
Molecular Weight:
13.1 kDa
Scientific Resources
Product Documentation
Document Type
Product Name
Catalog #
Lot #
Language
Educational Materials
(4)
Product Applications
This product is designed for use in the following research area(s) as part of the highlighted workflow stage(s). Explore these workflows to learn more about the other products we offer to support each research area.
Research Area
Workflow Stages for
Data and Publications
Data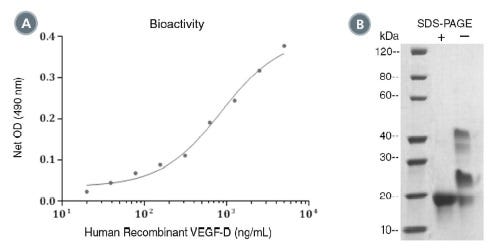 (A) The biological activity of Human Recombinant VEGF-D was tested by its ability to promote the proliferation of HUVECs. Cell proliferation was measured using a fluorometric assay method. The EC50 is defined as the effective concentration of the growth factor at which cell proliferation is at 50% of maximum. The EC50 in the example above is less than 1000 ng/mL. (B) 2 μg of Human Recombinant VEGF-D was resolved with SDS-PAGE under reducing (+) and non-reducing (-) conditions and visualized by Coomassie Blue staining. Human Recombinant VEGF-D has a predicted molecular mass of 13.1 kDa.
STEMCELL TECHNOLOGIES INC.'S QUALITY MANAGEMENT SYSTEM IS CERTIFIED TO ISO 13485. PRODUCTS ARE FOR RESEARCH USE ONLY AND NOT INTENDED FOR HUMAN OR ANIMAL DIAGNOSTIC OR THERAPEUTIC USES UNLESS OTHERWISE STATED.