ClonaCell™ EasyPick
Automated Platform for High Throughput Cell Line Development
Automate your process for screening and cloning transfected cell lines and hybridomas using
ClonaCell™ EasyPick
. The ClonaCell™ EasyPick automated platform for cell line development is supplied in partnership with
Hamilton Robotics
to bring you an efficient platform for high throughput mammalian colony selection using
ClonaCell™ semi-solid media
. With the increasing demands of Speed-to-Clinic and Quality-by-Design initiatives, ClonaCell™ EasyPick provides speed, quality and throughput that are crucial to the development of high yielding clones for biologics production.

See ClonaCell™ EasyPick in Action
Discover an automated method for continued productive use in demanding scale up environments.
Why Use ClonaCell™ EasyPick?
Generate stable cell lines in only 14 days by combining the selection and cloning steps using
.
Isolate up to 200 clones per hour with this fully automated platform.
Disposable tips, CO-RE pipetting technology, monitored air displacement, and anti-droplet control eliminate the risk of sample cross-contamination or aerosol formation.
Designed with a modular platform to accommodate automation of upstream and downstream processes.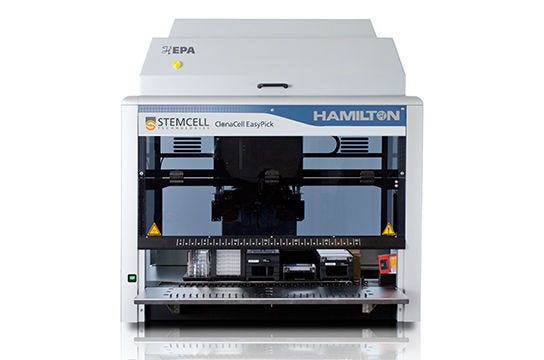 Technology:
Air displacement pipetting for reliable and gentle picking of cell clones.
Compressed O-Ring Expansion (CO-RE) system for better tip pick-up, release and positional accuracy.
Plate gripper with plate stacker module to increase processing capacity
Imaging system for automated detection and location of colonies
Monitored air displacement and anti-droplet control to detect clots or empty wells and to reduce contamination.
Dual modes of liquid level detection for flexibility in handling different liquids.
Labware:
Source plate: 10 cm Petri dish
Destination plate: 96-well microtiter plate
Accessories:
HEPA filter hood
MultiFlex carrier base for up to 5 MultiFlex modules
MultiFlex MTP module (to position 96- or 384-well plates in SBS format)
MultiFlex stacker module (landscape) to hold up to 10 plates
2-D barcode reader
Deepwell Plate Stack Carrier
Dimensions:
Length: 44.3 in (112.4 cm)
Width: 31.3 in (79.5 cm)
Width with Autoload: 39.6 in (100.6 cm)
Height: 35.6 in (90.3 cm)
Configuration:
8 x 1000 μL channels
CO-RE gripper
Imaging system (CCD camera and light table)
Deck Capacity:
30 tracks (T) allow combinations of:
maximum of 30 tube carriers (1 T) holding 24 or 32 tubes per carrier
maximum of 5 carriers (6 T) holding 5 tip racks or 5 plate positions per carrier
Upgrades:
Up to 16 x 1000 μL channels
Up to 8 x 5 mL channels
Multiprobe heads
Platform upgrade
Upgrade to a STARplus with an extension module, doubling deck capacity
Dimensions:
Length: 65.5 in (166.4 cm)
Width: 31.3 in (79.5 cm)
Width with Autoload: 39.6 in (100.6 cm)
Height: 35.6 in (90.3 cm)
Configuration:
8 x 1000 μL channels
CO-RE gripper
Imaging system (CCD camera and light table)
Deck Capacity:
54 tracks (T) allow combinations of:
maximum of 54 tube carriers (1 T) holding 24 or 32 tubes per carrier
maximum of 9 carriers (6 T) holding 5 tip racks or 5 plate positions per carrier
Upgrades:
Up to 16 x 1000 μL channels
Up to 8 x 5 mL channels
Multiprobe heads
Platform upgrade
Dimensions:
Length: 85.0 in (216.0 cm)
Width: 31.3 in (79.5 cm)
Width with Autoload: 39.6 in (100.6 cm)
Height: 35.6 in (90.3 cm)
Configuration:
8 x 1000 μL channels
CO-RE gripper
Imaging system (CCD camera and light table)
Deck Capacity:
71 tracks (T) allow combinations of:
maximum of 71 tube carriers (1 T) holding 24 or 32 tubes per carrier
maximum of 11 carriers (6 T) holding 5 tip racks or 5 plate positions per carrier
Upgrades:
Up to 16 x 1000 μL channels
Up to 8 x 5 mL channels
Multiprobe heads
Platform upgrade