NHEJ pathway inhibitor; Inhibits DNA-dependent protein kinase (DNA-PK)
Overview
NU7026 is an inhibitor of DNA-dependent protein kinase (DNA-PK), an enzyme involved in the non-homologous end joining (NHEJ) DNA repair pathway. NU7026 sensitizes cells to radiation and has potential for anticancer therapies (Veuger et al.). NU7026 is also reported to increase the efficiency of homology-directed repair (HDR) in CRISPR-Cas9 genome editing (Riesenberg & Maricic; Zhang et al.).


GENOME EDITING
· Increases precise genome editing by promoting HDR at the expense of NHEJ in human pluripotent stem cells (Riesenberg & Maricic; Zhang et al.).

CANCER RESEARCH
· Sensitizes human cancer cell lines to DNA double-strand break-inducing therapy (chemo- or radio-therapy) by inhibiting DNA-PK activity and inducing cell cycle arrest at G2/M phase (Albarakati et al.; Ma et al.; Niazi et al.; Willmore et al.; Yang et al.).
Alternative Names
LY293646; DNA-PK Inhibitor II
Cell Type
Cancer Cells and Cell Lines, Leukemia/Lymphoma Cells, Pluripotent Stem Cells
Species
Human, Mouse, Rat, Non-Human Primate, Other
Application
Genome Editing
Area of Interest
Cancer, Immunology, Stem Cell Biology
Chemical Formula
C₁₇H₁₅NO₃
Molecular Weight
281.3 g/mol
Scientific Resources
Product Documentation
Find supporting information and directions for use in the Product Information Sheet or explore additional protocols below.
Document Type
Product Name
Catalog #
Lot #
Language
Educational Materials
(3)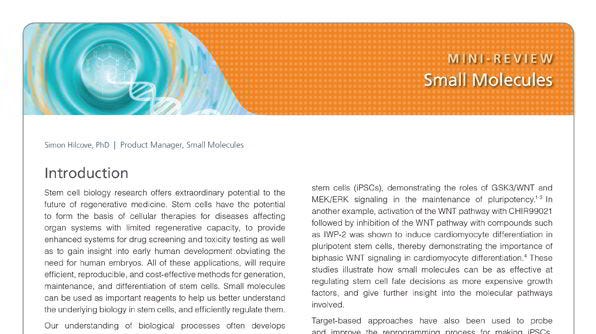 Mini Review
Product Applications
This product is designed for use in the following research area(s) as part of the highlighted workflow stage(s). Explore these workflows to learn more about the other products we offer to support each research area.
Quality Statement:

PRODUCTS ARE FOR RESEARCH USE ONLY AND NOT INTENDED FOR HUMAN OR ANIMAL DIAGNOSTIC OR THERAPEUTIC USES UNLESS OTHERWISE STATED. FOR ADDITIONAL INFORMATION ON QUALITY AT STEMCELL, REFER TO WWW.STEMCELL.COM/COMPLIANCE.