Human Recombinant BMPR-1A Fc
Bone morphogenetic protein receptor type 1A, Fc tag
Overview
Bone morphogenetic protein receptor type 1A (BMPR-1A) is a type I receptor of the BMP receptor family of transmembrane serine/threonine kinases (Abe; Fischerauer et al.); it is also known as ALK3. BMPR-1A is a receptor for BMP-2, BMP-4, GDF-5, and GDF-6. Binding of BMPs to receptor complexes results in phosphorylation of intracellular SMADs, which go on to regulate transcription (Pan et al.). BMP regulation plays a role in proliferation, differentiation, migration, and apoptosis of endothelial and vascular smooth muscle cells (Abe). BMPR-1A deficiency is lethal during gastrulation (Mishina et al.). BMPR-1A is important in chondrogenesis and osteogenesis, along with BMPR-1B (Fischerauer et al.; Jing et al.). This protein contains a C-terminus linker (IEGRMD) to an Fc tag (Human IgG1).
Alternative Names
Activin receptor-like kinase 3, ACVRLK3, ALK3, BMP type-1A receptor, BRK‐1, CD292, Serine/threonine-protein kinase receptor R5, SKR5
Cell Type
Chondrocytes, Endoderm, PSC-Derived, Endothelial Cells, Mesenchymal Stem and Progenitor Cells, Mesoderm, PSC-Derived, Osteoblasts, Pluripotent Stem Cells, Smooth Muscle
Area of Interest
Cancer Research, Stem Cell Biology
Molecular Weight
40.4 kDa monomer; 80.8 kDa dimer
Product Applications
This product is designed for use in the following research area(s) as part of the highlighted workflow stage(s). Explore these workflows to learn more about the other products we offer to support each research area.
Data and Publications
Data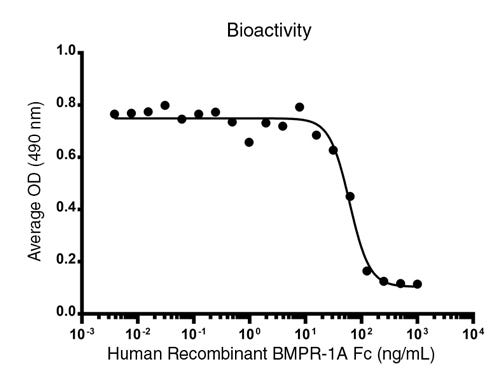 The biological activity of Human Recombinant BMPR-1A Fc was tested by its ability to inhibit BMP-4-induced alkaline phosphatase production in ATDC-5 cells. Inhibition of BMP-4-induced alkaline phosphatase production was measured using a fluorometric assay method. The EC50 is defined as the effective concentration of the growth factor at which inhibition of alkaline phosphatase production is at 50% of maximum. The EC50 in the above example is 61.5 ng/mL.
Quality Statement:

PRODUCTS ARE FOR RESEARCH USE ONLY AND NOT INTENDED FOR HUMAN OR ANIMAL DIAGNOSTIC OR THERAPEUTIC USES UNLESS OTHERWISE STATED. FOR ADDITIONAL INFORMATION ON QUALITY AT STEMCELL, REFER TO WWW.STEMCELL.COM/COMPLIANCE.