Overview
NeuroCult™ NS-A Proliferation Kit (Human) is a standardized, serum-free basal medium and supplement for the culture of human neural stem and progenitor cells from normal tissues or tumor samples, in the neurosphere or adherent monolayer system. When supplemented with appropriate cytokines, NeuroCult™ NS-A Proliferation Kit (Human) is optimized to maintain human neural stem cells in culture for extended periods of time without the loss of their self-renewal, proliferation, or differentiation potential.

NOTE: Addition of rh EGF (Catalog #78006), rh bFGF (Catalog #78003) and heparin (Catalog #07980) is required.
Components:
NeuroCult™ NS-A Basal Medium (Human), 450 mL (Catalog #05750)
NeuroCult™ Proliferation Supplement (Human), 50 mL (Catalog #05753)
Subtype:
Specialized Media
Cell Type:
Brain Tumor Stem Cells; Neural Stem and Progenitor Cells
Application:
Cell Culture; Colony Assay; Expansion; Functional Assay; Spheroid Culture; Toxicity Assay
Area of Interest:
Cancer Research; Drug Discovery and Toxicity Testing; Neuroscience; Stem Cell Biology
Scientific Resources
Product Documentation
Document Type
Product Name
Catalog #
Lot #
Language
Educational Materials
(11)
Product Applications
This product is designed for use in the following research area(s) as part of the highlighted workflow stage(s). Explore these workflows to learn more about the other products we offer to support each research area.
Research Area
Workflow Stages for
Data and Publications
Data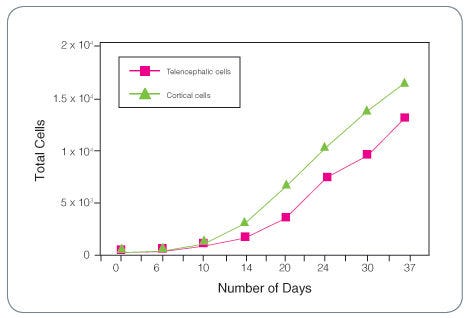 Figure 1. Total Cell Expansion for Fetal Human Telencephalic and Cortical Cells Cultured as Neurospheres with Complete NeuroCult™ Proliferation Medium (Human) Containing rh EGF, rh bFGF and Heparin
Sold under license from StemCells California, Inc. US Patent Nos. 5,750,376; 5,851,832; 5,980,885; 5,968,829; 5,981,165; 6,071,889; 6,093,531; 6,103,530; 6,165,783; 6,238,922.
STEMCELL TECHNOLOGIES INC.'S QUALITY MANAGEMENT SYSTEM IS CERTIFIED TO ISO 13485. PRODUCTS ARE FOR RESEARCH USE ONLY AND NOT INTENDED FOR HUMAN OR ANIMAL DIAGNOSTIC OR THERAPEUTIC USES UNLESS OTHERWISE STATED.