Human Recombinant IL-4, ACF
Interleukin 4, animal component-free
Overview
Human Interleukin 4 (IL-4) is important for immune responses to helminth infection as well as in allergic responses (Olpihant et al.). The IL-4 receptor consists of a heterodimer of IL-4Ra and common gamma chain. IL-4 receptor engagement leads to the activation of JAK1/3 and the recruitment of STAT6 and IRS1/2 (Nelms et al.). IL-4 drives immunoglobulin class switching in B cells (to IgE, IgG4), mast cell hyperplasia, mucus production, and the differentiation of naïve T cells into T helper type 2 (Th2) cells, which produce IL-4, IL-5, IL-10, and IL-13 (Bao et al.; Olpihant et al.; Nelms et al.). In addition to Th2 T cells, IL-4 is produced by CD4+ NK T cells, γ/δ T cells, activated basophils, eosinophils, and mast cells. IL-4 consists of 130 amino acids with a predicted molecular weight of 15.1 kDa. Human IL-4 does not cross-react with mouse cells (Park et al.). This product is animal component-free.
Alternative Names
B cell stimulating factor, BCDF, BCGF, BSF-1, Interleukin-4
Cell Type
B Cells, Dendritic Cells, Hematopoietic Stem and Progenitor Cells, Lymphocytes, Monocytes, Myeloid Cells, Neurons, T Cells
Area of Interest
Immunology, Neuroscience, Stem Cell Biology
Molecular Weight
15.1 kDa
Data Figures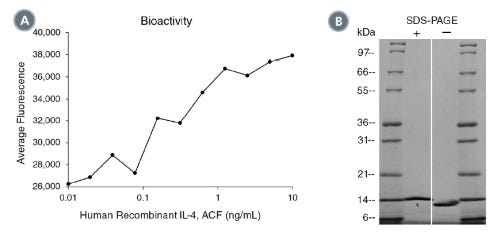 (A) The biological activity of Human Recombinant IL-4, ACF was tested by its ability to promote the proliferation of TF-1 cells. Cell proliferation was measured after 72 hours of culture using a fluorometric assay method. The EC50 is defined as the effective concentration of the cytokine at which cell proliferation is at 50% of maximum. The EC50 in the example above is 0.2 ng/mL. (B) 1 μg of Human Recombinant IL-4, ACF was resolved with SDS-PAGE under reducing (+) and non-reducing (-) conditions and visualized by Coomassie Blue staining.
Protocols and Documentation
Find supporting information and directions for use in the Product Information Sheet or explore additional protocols below.
Document Type
Product Name
Catalog #
Lot #
Language
Catalog #
78147, 78147.1, 78147.2
Catalog #
78147, 78147.1, 78147.2
Applications
This product is designed for use in the following research area(s) as part of the highlighted workflow stage(s). Explore these workflows to learn more about the other products we offer to support each research area.
Resources and Publications
Educational Materials
(5)
Quality Statement:

PRODUCTS ARE FOR RESEARCH USE ONLY AND NOT INTENDED FOR HUMAN OR ANIMAL DIAGNOSTIC OR THERAPEUTIC USES UNLESS OTHERWISE STATED. FOR ADDITIONAL INFORMATION ON QUALITY AT STEMCELL, REFER TO WWW.STEMCELL.COM/COMPLIANCE.