Maintaining Our Culture of Scientists Helping Scientists Amidst Growth
There has to be some sort of corporate push, corporate policy to say, 'These are the values that started the company when we were small. These are the ones we had at mid-life. These are going to be the ones when we're big.' I'm not 100% sure I've seen all of that. I know they're thinking about it.
Dr. Craig Ayre, Atlantic Cancer Research Institute (podcast interview)

STEMCELL Technologies is continuing to grow. In April 2018, we received $45 million in government funding to support our plans to build an advanced manufacturing facility, with 675 new jobs promised by 2022. The scientists who peer reviewed us expressed concern that this rapid expansion could erode one of our strongest assets: our company culture of being Scientists Helping Scientists. They asked how we will maintain that culture and vision as we grow. Will we still be the trustworthy vendor and scientific resource the peer reviewers found in 5 or 10 years?
Can I trust STEMCELL with my science? Yes, I can trust them. Does that mean that I'll always be able to trust them? I don't know, we'll see where they go.
Dr. Amy Stone, University of Washington (podcast interview)
We acknowledge the concerns of the reviewers and the challenges our growth poses. We are making a commitment here to hold strong to our values in the face of our increasing size and complexity. To remain true to our vision and culture we will build our growing company with people who share our passion for science and service of the scientific community.


Our Vision. Our People.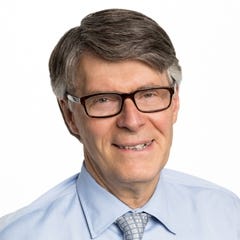 Our tagline is Scientists Helping Scientists. And that's what we're all about... I'm not interested in making money. I'm interested in making really good products to help cancer and other researchers do their jobs better. That's what motivates us.
Dr. Allen Eaves, CEO and Founder of STEMCELL Technologies on his motivations for STEMCELL (quote from The Stem Cell Podcast Ep. 73)
Our vision and culture of STEMCELL as a company of scientists helping scientists started with Dr. Allen Eaves. That mindset permeates our company at all levels and unites our various departments towards a common goal: to help scientists do their jobs. We are taking steps to ensure that we maintain that culture, starting with our people.
It does all start from the top… the philosophy and culture comes from Allen. He knows what they do, he knows what they're good at, he knows the vision. And what has become clear is that it is the people that make this company. They have the same values, the vision, the strategy, the goals. It's cohesive. There are separate groups, but they all talk to each other. It doesn't feel splintered in any way.
Dr. Fiona Frame, University of York (podcast interview)
Dr. Frame said it perfectly: our people make STEMCELL what it is. Our commitment to a diverse and inclusive corporate environment is reflected in our current company demographic. That a large majority of our employees hold advanced science degrees speaks to the fact that STEMCELL is, indeed, a company of scientists. As we grow, we are being scrupulous in our hiring to ensure that we attract a diverse group of talented individuals who share our love for science and are passionate about working within both the company and community to support research progress.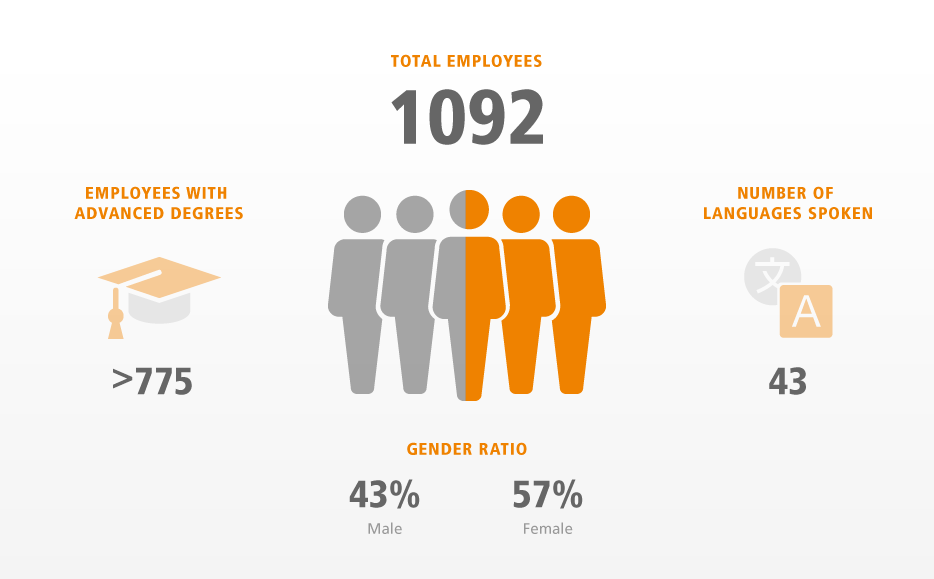 Our People are Talented and Diverse.
Statistics of STEMCELL employees in 2018.
Our rapid expansion may pose challenges, but it also generates opportunity. By creating jobs, we are providing talented young scientists and researchers with employment options outside of academia, either in R&D or in a corporate setting, from which they can continue to give back to the scientific community in diverse ways. By growing, we are providing opportunities for scientists to help scientists.
The role that STEMCELL has as an employer can't be underestimated and taken for granted. The postdoctoral community feels that they're getting pushed out of academia. There doesn't seem to be a future [in academia], just as being a scientist. So, the philosophy behind STEMCELL gives me some hope that postdocs can be seen as valuable people and potentially a valued employee.
Dr. Fiona Frame, University of York (documentary)

To grow our company, we are hiring and retaining scientists and engineers at all levels. We are committed to supporting all of our employees in their continuing education, development and career progression. Allowing for mobility within our company encourages interdepartmental relationships and knowledge transfer that will help to nurture our culture as we grow.
Something that I found very striking was the mobility of the people within the company. Many people come in through the R&D department and then move on to Marketing or Sales or Product Support. Those people are originally bench scientists...They stay and fill in these other roles because they believe in what STEMCELL is doing and how they're doing it. If there wasn't the integrity of scientists overall throughout the company, I don't think they would have the kind of employee retention that they see, which is very high.
Dr. Amy Stone, University of Washington (podcast interview)
We can't predict the future. We are striving to maintain our culture and have planned our growth to protect it. STEMCELL was founded on the vision of scientists wanting to help scientists, which will continue to drive not just our how we interact with and serve the scientific community, but also how we grow ourselves: with people who love science.

The Peer Review
Find out more about the peer review initiative that encouraged us to strengthen our culture while we grow.
Explore some of the services we currently provide as we strive to be Scientists Helping Scientists:

Science Communication
Scientists today have to an overwhelming amount of information to keep up with. Find out how our Scientific Communication team helps scientists keep current.

Training Programs
Learning new experimental procedures can be challenging. See how our Training Programs are helping scientists apply new techniques to advance their research.