Now Available! Process Large Volumes of Blood, Leukapheresis Samples or PBMC with the Handheld Easy 50 Magnet
STEMCELL TechnologiesTM is pleased to announce the release of our largest volume magnet yet, Easy 50 (Catalog #18002). Now up to 4 x 109 cells can be isolated in a single separation procedure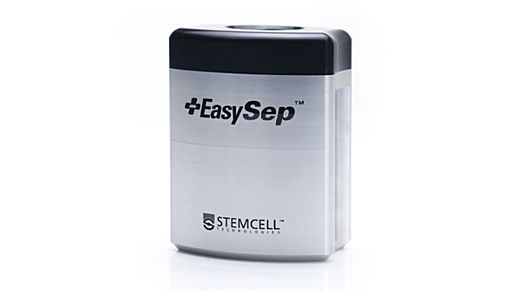 Easy 50 is a lightweight, portable magnet that allows processing of large volumes in a single separation.
STEMCELL Technologies™ is pleased to announce the release of our largest volume magnet yet, Easy 50 (Catalog #18002). Now up to 4 x 109 cells can be isolated in a single separation procedure, saving hours and eliminating errors that come from splitting large samples.

The Easy 50 magnet can process up to 40 mL of whole blood or PBMC at one time, making it ideal for labs that process large volumes of blood and PBMC. Easy 50 is designed for use with many of our popular EasySep™ Negative Enrichment kits, giving you high recovery and purity of untouched cells ready for immediate use in downstream applications.
ADVANTAGES:

Large Volume
Isolate cells directly in a 50 mL tube

Convenient and Portable
Ideal for sterile use in the bio-hood

Fast and Easy
Process up to 4x109 cells in as little as 25 minutes

Gentle
Get untouched cells in a column-free system


For more information regarding this product, please click on our Easy 50 EasySep™ Magnet page. .

Explore our list of optimized kits for Easy 50.