Human Recombinant MIP-1 beta (CCL4)
Macrophage inflammatory protein-1 beta
Overview
Macrophage inflammatory protein-1 beta (MIP-1 beta), also known as CCL4, is a member of the CC family of chemokines and is most closely related to CCL3 or MIP-1 alpha. MIP-1 beta is predominantly synthesized by activated CD8+ T cells, specifically the perforin-low memory CD8+ T cells (Kamin-Lewis et al.). MIP-1 beta signals through CCR5, which is the major coreceptor required for entry of certain strains of HIV-1 into permissive cells, and it is known that HIV-1-specific CD8+ T cell clones that exhibit cytotoxic T lymphocyte (CTL) activity secrete MIP-1 beta upon encountering sensitized target cells (Menten et al.). MIP-1 beta attracts a variety of immune cells to sites of microbial infection. In vitro experiments show that human MIP-1 beta tends to attract CD4+ T lymphocytes, preferentially of the naïve (CD45RA) phenotype (Schall et al.). In addition to its chemotactic functions, MIP-1 beta induces the release of proinflammatory cytokines, mast cell degranulation, and NK cell activation (Schall et al.). It has been shown that there is an increased expression of MIP-1 beta in CD8+ and CD4+ T cells at the site of inflammation in sarcoidosis patients (Barczyk et al.).
Alternative Names
ACT-2, Immune activation protein 2, LAG-1, Lymphocyte activation gene 1 protein, MIP-1b, Protein H400, SCYA2, SCYA4, Small-inducible cytokine A4, T-cell activation protein 2
Cell Type
B Cells, Dendritic Cells, Mesenchymal Stem and Progenitor Cells, Monocytes, NK Cells, Other, T Cells, T Cells, CD4+, T Cells, CD8+
Area of Interest
Immunology, Stem Cell Biology
Product Applications
This product is designed for use in the following research area(s) as part of the highlighted workflow stage(s). Explore these workflows to learn more about the other products we offer to support each research area.
Data and Publications
Data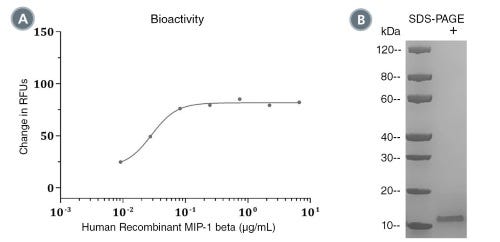 (A) The biological activity of Human Recombinant MIP-1 beta (CCL4) was tested by its ability to mobilize Ca2+ in CHO-K1/Gα15/hCCR5 cells (human Gα15 and human CCR5 stably expressed in CHO-K1 cells). Ca2+ mobilization was measured using a fluorometric assay method. The EC50 is defined as the effective concentration of the growth factor at which Ca2+ mobilization is at 50% of maximum. The EC50 in the example above is less than 0.1 μg/mL. (B) 1 μg of Human Recombinant MIP-1 beta (CCL4) was resolved with SDS-PAGE under reducing (+) conditions and visualized by Coomassie Blue staining. Human Recombinant MIP-1 beta (CCL4) has a predicted molecular mass of 7.6 kDa.
Quality Statement:

PRODUCTS ARE FOR RESEARCH USE ONLY AND NOT INTENDED FOR HUMAN OR ANIMAL DIAGNOSTIC OR THERAPEUTIC USES UNLESS OTHERWISE STATED. FOR ADDITIONAL INFORMATION ON QUALITY AT STEMCELL, REFER TO WWW.STEMCELL.COM/COMPLIANCE.