TeSR™-AOF
Animal Origin-Free Maintenance Medium

Prepare for a seamless transition to the clinic with TeSR™-AOF, the new animal origin-free (AOF) human pluripotent stem cell (hPSC) maintenance medium. Since it contains no animal-derived raw materials, TeSR™-AOF helps minimize risk in your cell therapy development—no matter what stage your research is at. Compared to low-protein formulations, TeSR™-AOF consistently supports cell growth across cell lines and allows for restricted feeding schedules, enabling you to get more of the cells you need while minimizing the time spent maintaining them.
On this page you will find a scientific poster and presentation that provide a detailed overview of the data supporting our claims, answers to some frequently asked questions, and a form where you can sign up to request a sample of TeSR™-AOF.
To learn more about our approach to quality and compliance, including GMP, explore these resources on our Quality Policy and what it means to you. There, you will also find information on how we can support you through the regulatory process for making TeSR™-AOF your medium of choice.
Request a Sample of TeSR™-AOF
Sign up below or contact your local sales representative to request a sample of TeSR™-AOF.
Scientific Presentation
Hear directly from the creator of TeSR™-AOF, STEMCELL Scientist Kim Snyder, as she explains the rationale behind TeSR™-AOF and gives a detailed overview of some preliminary data in this talk from the 2020 Till & McCulloch Meetings.
Scientific Poster
See the data supporting the use of TeSR™-AOF as a reliable and effective hPSC maintenance medium for researchers interested in moving toward drug discovery and cell therapy development.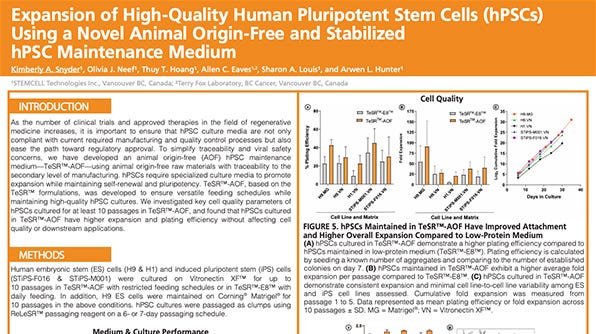 Frequently Asked Questions
What does animal origin-free mean and why is it important?
TeSR™-AOF is animal origin-free with traceability to the secondary level of manufacturing, which means that is not manufactured using any raw material ingredients derived from an animal (including human) tissue, cell, or body fluid and that the components used to manufacture the raw materials are also not derived from an animal tissue, cell, or body fluid. This is important because it means that TeSR™-AOF is viral safe by design, easing the path to clinical applications with straightforward traceability documentation that can be provided to regulators.
Can I use a restricted feeding schedule with TeSR™-AOF?
Yes! TeSR™-AOF contains stabilized components, including FGF2. This means that hPSCs maintained with TeSR™-AOF restricted-feed schedules exhibit comparable colony morphology to those fed daily.
What advantages does TeSR™-AOF have over a low-protein medium such as TeSR™ E8?
In addition to the ability to enjoy a weekend-free schedule as described above, hPSCs maintained in TeSR™-AOF have improved attachment and higher overall expansion compared to low-protein media.